Penthouse offer $1m for copy of Donald Trump dossier video
President-elect Trump and Russian President Vladimir Putin have denied the 'Kompromat' tape exists.
Penthouse has offered $1m (£800,000) in exchange for exclusive rights to an alleged video of President-elect Donald Trump spending an evening with prostitutes in a Russian hotel room.
The footage was discussed in an uncorroborated intelligence report leaked by Buzzfeed News on Tuesday (10 January) that claimed the Kremlin held "compromising information" on the Republican. Russian President Vladimir Putin has denied the claims.
Despite serious doubts over the validity of the report, the porn website and former print publication is offering the huge fee in a bid to secure a copy of the salacious incident.
Penthouse's official twitter account posted: "ATTENTION: We are offering up to $1m for exclusive rights to the FSB [Russia's intelligence agency] tapes of Donald Trump's"
In a statement given to The Wrap, Penthouse stated: "While many media outlets are content running a story based on conjecture and rumour, we at Penthouse are committed to the value of getting the story right rather than getting it first. So we are offering up to $1m to secure exclusive rights to the FSB tapes documenting Trump's Russian hotel hijinks."
They added: "After all, seeing is believing."
Trump branded the leak as "fake news" at an explosive press conference on Wednesday (11 January).
The 70-year-old claimed the documents may have been leaked by US intelligence agencies - comparing the situation to Nazi Germany.
He then refused to take a question from CNN's White House Correspondent Jim Acosta in retaliation at the broadcaster running a piece on the existence of the dossier.
It has since been revealed that former MI6 agent Christopher Steele was behind the report, and has now gone into hiding.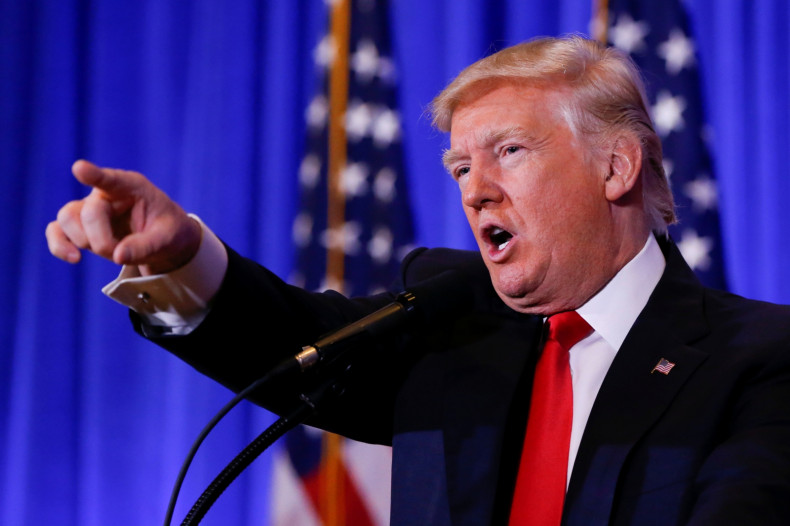 Although the claims remain unverified, Steele has been described as a trusted agent, who previously helped reveal corruption within Fifa.
BBC foreign correspondent Paul Wood also stepped forward to reveal CIA sources had previously alluded to the authenticity of the tape claims, as part of his own investigation.
He said, according to The Sun: "I used an intermediary to pass some questions to active-duty CIA officers dealing with the case file – they would not speak to me directly.
"I got a message back that there was 'more than one tape', 'audio and video', on 'more than one date', in 'more than one place' – in the Ritz Carlton in Moscow and also in Saint Petersburg.
"And that the material was 'of a sexual nature'."