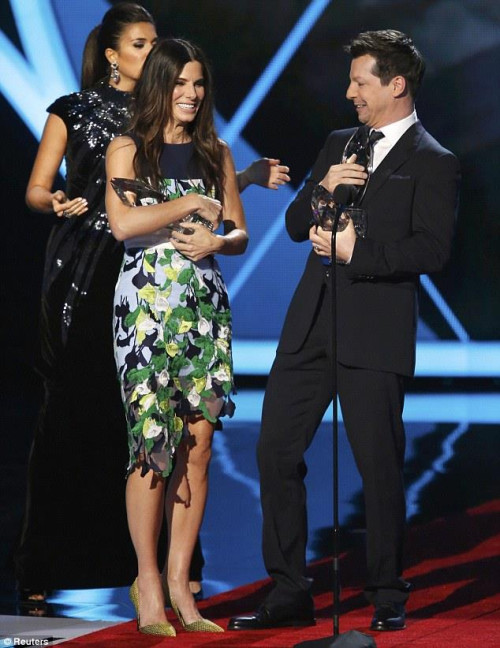 The 40th People's Choice Awards, honouring the best in popular culture for 2013, was held at the Nokia Theatre in Los Angeles. The toast of the evening was Gravity star Sandra Bullock who bagged four trophies.
Bullock was awarded favourite movie, comedic and dramatic actress, and she shared the favourite movie duo award with her Gravity co-star George Clooney, as per a CBS News report.
"I know this looks like I spent lonely Friday nights just voting for myself, but I didn't," she joked when accepting the favourite movie actress award. "An actor can't do what they do without hundreds of amazing people working for them, with them, alongside them."
She also thanked her 'The Heat' co-star, Melissa McCarthy, the crew of her 2013 monster hit Gravity and her son, Louis.
The night turned out to be spectacular for Britney Spears as well who won her first-ever People's Choice Award for Favourite Pop Artist.
"Wow!" an ecstatic Britney shrieked when she reached the stage. "This is awesome, I was not expecting this."
"It's because of all of you that I'm able to do what I love to do," Britney continued. She went on to thank her family, her "beautiful boys" at home and "all of you," reports E! Online.
It was a great evening for the cast and crew of popular sitcom, The Big Bang Theory, as the show was named favourite network TV comedy. Kaley Cuoco (who plays the role of Penny in the show) won the favourite comedic TV actress trophy.
"This is the second best thing that's happened to me all year. The first thing was marrying you, baby!" she told husband Ryan Sweeting, during her speech.
The biggest blockbuster of 2013, Iron Man 3, bagged three awards including favourite action movie star for Robert Downey Jr.
The star-studded show featured appearances by Jessica Alba, Heidi Klum, Zac Efron, Anna Faris and Michael B. Jordan.