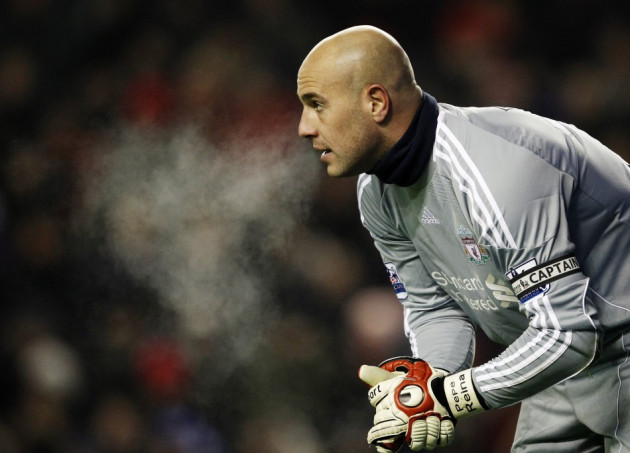 Napoli coach Rafa Benitez is hoping to be reunited with Pepe Reina as the Serie A club prepare a bid for the Liverpool shot stopper.
Reina's future at Liverpool has been under scrutiny throughout the summer; initially being touted as a Barcelona target after Victor Valdes announced his decision to leave the Nou Camp next summer.
The arrival of former Sunderland goalkeeper Simon Mignolet has cast his future in further doubt, with the Spaniard's role as the club's number one choice uncertain after the Belgian's splendid campaign last season.
Napoli, who are flushed with cash after selling striker Edinson Cavani to Paris Saint Germain for a reported £55m, have been linked with a move for Brazilian international Julio Cesar, who is certain to leave Queens Park Rangers after the club suffered relegation from the Premier League last season.
The Serie A club were thought to be close to securing a move for the 33-year-shot stopper, with a season long loan deal with the option of a permanent move next summer suggested to be the offer on the table, but the Daily Mail report that Cesar's move has stalled, prompting Benitez to consider a move for Reina, who he brought to English football in 2005.
Napoli's participation in next season's Champions League could prove to be an attractive proposition should Benitez urge club president Aurelio De Laurentiis to bring the goalkeeper to the Stadio San Paolo, with Liverpool sitting out of European football altogether next season.
And although the spot as the Spanish national team's number one custodian is sown up by Iker Casillas, Reina will still be vying for the role of lead understudy with Valdes ahead of next summer's World Cup. Lying behind Mignolet in the Liverpool pecking order could severely hamper those prospects.
Spanish international Reina played an integral role in the Liverpool side during Benitez's six year reign at Anfield, but his indifferent performances last season saw his future come under more scrutiny than ever. The £9m investment in Mignolet, who played a decisive role in ensuring Sunderland stayed in the Premier League last season, suggests Reina's days at the club could be numbered.
The Belgian shot stopper has already impressed his new teammates as Liverpool continue their pre-season preparations, with his former Black Cats teammate Jordan Henderson given a reminder of his exceptional shot stopping abilities.
"If you've seen him training, and the game other day, you saw he's a very good goalkeeper," Henderson told Liverpool's official website.
"He's a very good shot stopper to be fair, he can do anything. "He's very good with the ball at his feet, has got kicking and distribution, and his stot-stopping is unbelievable.
"It'll definitely be interesting. Pepe (Reina) is an amazing 'keeper, everyone knows that, so it'll be good competition for them both."