Peshawar school attack: Taliban 'burn teacher alive in front of pupils and behead children'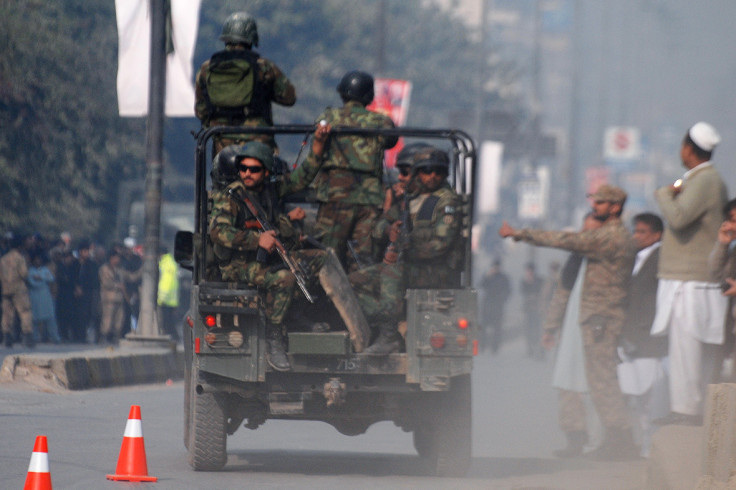 Taliban terrorists allegedly burned a teacher alive and made the students watch during their attack on a Pakistan school which left over 130 people dead.
According to a NBC News report, citing an unnamed military official, the terrorists stormed the Army Public school in Peshawar, in north-west Pakistan, and committed the horrific act as well as detonating a suicide bomb which killed a number of students.
"They burnt a teacher in front of the students in a classroom," the unnamed military source told the US TV network.
"They literally set the teacher on fire with gasoline and made the kids watch."
At least six militants entered the Pakistani school wearing security uniforms, before massacring an estimated 132 people and injuring another 122.
Most of the school's 500 students have been evacuated. The Pakistani army claims to have killed five terrorists and is conducting a search for more, while more hostages are believed to be held inside the school.
Pakistani officials have yet to verify the burning of the teacher, or other reports that some of the bodies of the dead school children are being brought into the hospital headless.
According to a tweet by Omar R Quraishi, an editor at the The Express Tribune who has over 154,000 Twitter followers, "Some of the bodies brought to hospital during the Peshawar school attack have been headless: source."
Another report, quoting an injured student from the siege, supported the comment above.
Again, authorities have not confirmed this report.
Meanwhile, Pakistani Prime Minister Nawaz Sharif has called for a three-day period of mourning to be extended nationwide.
He has also requested an all-party conference in Peshawar tomorrow.
© Copyright IBTimes 2023. All rights reserved.