There is no class 9 in APS anymore. All students were killed in the #PeshawarAttack. Dawood, 15, is the only survivor pic.twitter.com/Kb2RUcjTcJ

— Javeria (@JaveriaShakil) December 17, 2014
Dawood Ibrahim has been dubbed the 'luckiest boy alive' after he survived the Peshawar school massacre because he overslept when his alarm clock didn't go off.
The 15-year-old is the only student of the class 9 Army Public School in Peshawar to survive the horrifying attack by the Pakistani Taliban that left 132 innocent children and nine teachers' dead, including everyone of his classmates.
A tweet brought Ibrahim's story to light. It read "there is no class 9 in APS anymore... Dawood, 15, is the only survivor."
Speaking to The Express Tribune of Pakistan, his older brother, Sufyan Ibrahim said: "It was fate. No one from his class survived. Every single one of them was killed."
The teenager spent the day attending the funerals of all of his friends and classmates.
Descriptions of the scene of carnage are emerging from children who survived the massacre when seven terrorists unleashed a torrent of bullets on children as young as five- years-old.
Speaking to Mail Online, Ehsan Elahi, 13, revealed how he played dead after being shot twice in the arm. He said the militants "sprayed bullets like hell" into his class, turning the room into a "pool of blood and death."
The class 8 student was taking a first aid lesson when he heard the sound of gunfire outside the auditorium.
"Our teachers and instructors asked us to calm down but the sound of the bullets started came closer and closer," he said. "In the next minute, the glass of windows and doors of the hall smashed with bullets. Some people started kicking the hall doors."
Describing the terror and desperation of the children he said: "Everybody was trying to find a place to hide but there were no such places in the hall. The students were crying and weeping. There were only chairs and benches to hide behind in the hall. I jumped behind a bench and laid on the ground."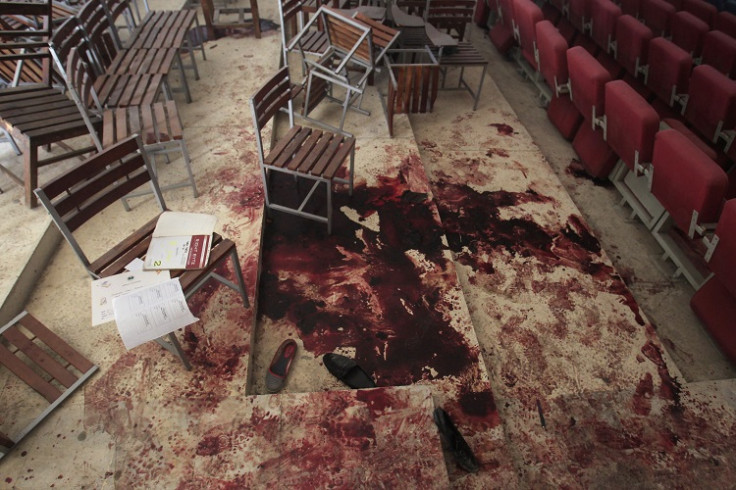 Elahi described the horrifying scene as he was splattered by the blood and flesh of his classmates as the militants fired at them indiscriminately.
"I saw army instructors falling on the ground first. I saw many of my friends getting bullets on their heads, chests, arms and legs right in front of me. Their body parts and blood were flying like small pieces of cotton in the class room. Warm blood and flesh of my friends fell on my face and other parts of my body. It was horrible. They kept on firing bullets for at least 10 minutes and then stopped. It was a pause of a maximum of a minute.
"Next moment, they started spraying bullets again towards those who were crying with pain or moving. I also received two bullets on my right arm. I wanted to cry with my full voice but I held my pain and did not cry because it meant death."
Elahi explained how, after the ordeal of seeing his friends killed, he was saved by Pakistani soldiers.
He said: "They were not ready to leave alive even a single person present in the hall. After around 15 minutes, we heard some bullets shots from outside. I think army soldiers reached the school by that time and they fired those bullets. This diverted the attention of the attackers. They ran out from the hall. But, I did not move or cried for next 10 minutes unless army men came to rescue us. I saw lifeless faces of many of my friends when I was leaving the hall. Their faces are still in front of my eyes."
Another pupil told how he watched his teacher being burned alive as she stood in the path of the terrorists in a bid to protect her students, giving them a chance to flee.
Afsha Ahmed, 24, confronted the gunmen saying: "You can only kill my students over my dead body." She was doused with petrol and set alight. One of her students, 15-year-old Irfan Ullah, wept as he recounted how his teacher gave her life to save her students.
"She was a hero, so brave. She jumped up and stood between us and the terrorists before they could target us. I remember her last words - she said: 'I won't see my students lying in blood on the floor.'
Irfan, who was seriously injured during the savage attack, said he hoped Mrs Ahmed would forgive him for not trying to protect her.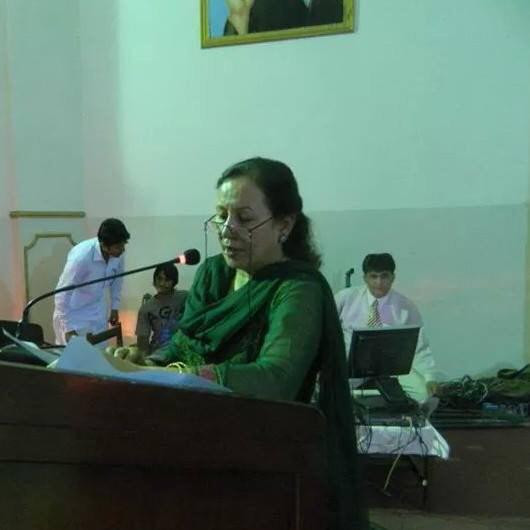 "I felt so selfish as we ran away to safe our lives instead of trying to save our teacher who sacrificed her life for our better tomorrow," he added.
Tahira Kazi, the principal of the Army Public School and College in Peshawar, was also burnt alive by jihadists as her students looked on. As the terrorists confronted her she said: "I am their mother. Talk to me."
Graphic images have been released revealing the aftermath of the brutal assault in which the terrorists sprayed bullets at the children and detonated suicide bombs.
Mass funerals are taking place in Peshawar as the Pakistani prime minister lifted a moratorium on the death penalty.
"It was decided that this moratorium should be lifted. The prime minister approved," said government spokesman Mohiuddin Wan.
Tributes pour in from across world as Pakistan declares three-day mourning over army school carnage in Peshawar.
A candlelight vigil took place in Trafalgar Square this evening, ( 17 December) in memory of the children and teachers who were killed in the massacre.