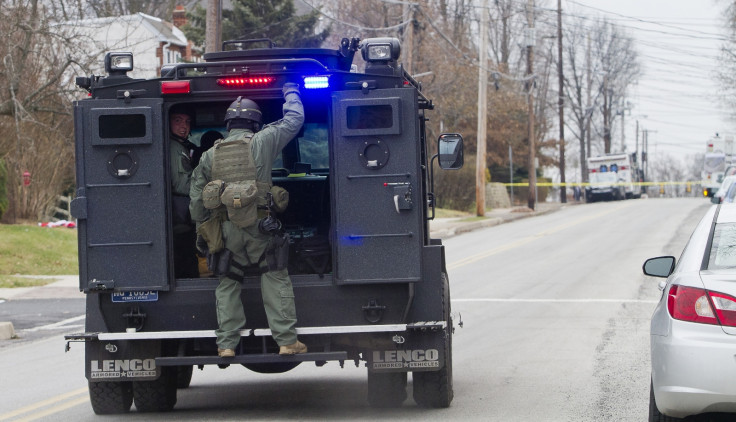 A gunman who has allegedly killed six people and seriously wounded one other in three separate homes in Philadelphia is still on the loose, authorities said.
Residents were advised to stay indoors with doors locked as the suspected killer is armed and still at large.
The suspect in the shootings has been named as 35-year-old Bradley William Stone, according to Risa Vetri Ferman, Montgomery County District Attorney. She said all of the victims had a "familial relationship" to Stone.
In a press conference, Ferman announced authorities are seeking the whereabouts of Stone, 35, of Pennsburg, in connection with six deaths and the serious wounding of another person at three locations across Montgomery County.
Police held seige on a Pennsburg home on Monday afternoon, and talked to Stone through a megaphone to urge him to give himself up after being in hot pursuit of the 35-year-old all day.
"Bradley, this is the police department!" an officer shouted. "Come to the front door with your hands up. You're under arrest."
The fugitive was said to be wearing military fatigues and also used a cane to help him walk, said Ferman.
The shootings happened at homes in Harleysville, Lansdale and Souderton, three towns which are just a few miles from each other.
At the first shooting scene in Harleysville, neighbours reported hearing the sound of gunshots and breaking glass at 4am local time.
Evon Weron, one neighbour said the suspect is a former member of the military and that the first victim was his ex-wife, Nicole Stone. Weron told the Lansdale Reporter the couple had been fighting over custody of children.
A SWAT team and police with armoured vehicles and rifles converged on Pennsburg after spending several hours at the Souderton home where several victims were found.
Stone is described as 5 feet, 10 inches tall, 195 pounds, with a red/auburn beard and moustache and closely cropped hair. Ferman said Stone should be considered armed and dangerous.