While acknowledging that the rising number of murders of drug traffickers attributed to vigilantes was a "cause for concern", The Philippines has said that President Rodrigo Duterte's war on illegal drugs has been a success.
Illegal drugs supply in the country has been cut by as much as 90% in just two months, officials claim. A Philippine National Report released on Saturday (10 September) said that a total of 1,466 suspected people involved in drugs were killed during police operations. Another 1,490 were killed by suspected vigilantes since Duterte took over as President.
More than 16,000 suspects involved in illegal drugs have been arrested while the number of those who voluntarily handed themselves in numbered 700,000, the Philippines Star reported.
"The police operations have been a success," Martin Andanar, the Presidential Communications Office Secretary told a government radio station on Saturday 10 September. However, he added: "But the killings that have something to do with gang wars or internecine since they eliminate each other, of course that is a cause for concern."
Andanar said: "These do not fall under the ambit of the law." He added that the authorities were investigating the killings, which have drawn protests from human rights advocates.
Police chief says drugs supply severely cut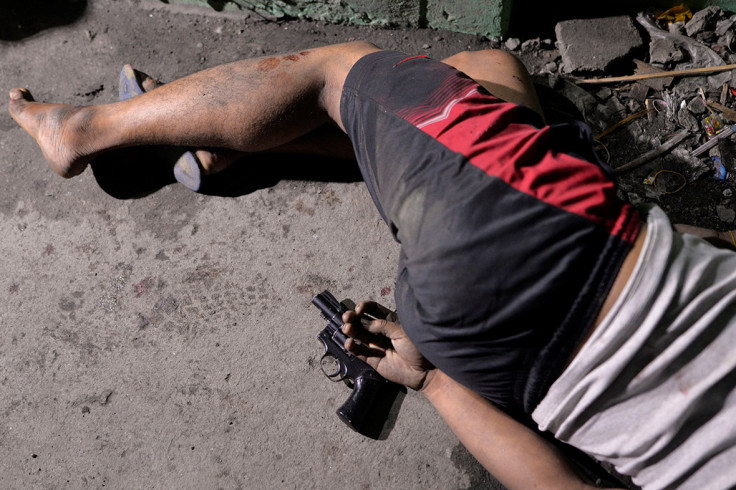 Meanwhile The Philippines National Police Director General Ronald dela Rosa said in Zamboanga City said that the drug war launched by Duterte has resulted in the supply of illegal drugs being cut by up to 90%. "We have severely cut the head of the supply."
In addition, drug lords held in prison facilities have also seen their drug activities severely curtailed after convicted drug lords were stopped from operating their drugs trade from within the prison facility.
"They [drug traffickers] cannot order [drugs] because they have no cell phones. So there's no supply coming in and they could not distribute," Dela Rosa said. The war however is not over as there are still some drug lords operating in Binondo and big hotels in Manila, he warned.
Duterte pushes for revival of death penalty
According to the newspaper, Duterte reiterated the need to revive the death penalty to address the country's growing drug problem, which he claims has reached "epidemic proportions." He says that there are 3.7 million drug addicts in the Philippines.
Addressing the Filipino community in Indonesia on 9 September, he said: "We do not have a death penalty. So who would impose the death penalty? It would be Duterte."
On his return from the ASEAN Summit in Laos, he told reporters that he had highlighted the Philippines "grave concern over the social illness that breeds corruption at the highest levels, tears apart the fabric of our society and the basis of human dignity."
"I said our campaign against illegal drugs will be relentless, and it will be comprehensive, encompassing, suppression, prosecution and rehabilitation. All these measures are within the laws. I called on greater cooperation in the region, particularly in the capacity building and law enforcement efforts," he said.
Indonesia keen to implement anti-drug crackdown as well
The Presidential Office also issued a statement saying that Indonesia's anti-narcotics Chief would also have to implement an anti-drug crackdown similar to that of the Phlilippines.
It quoted Waseso as saying: "The life of a dealer is meaningless because [he] carries out mass murder. How can we respect that?"