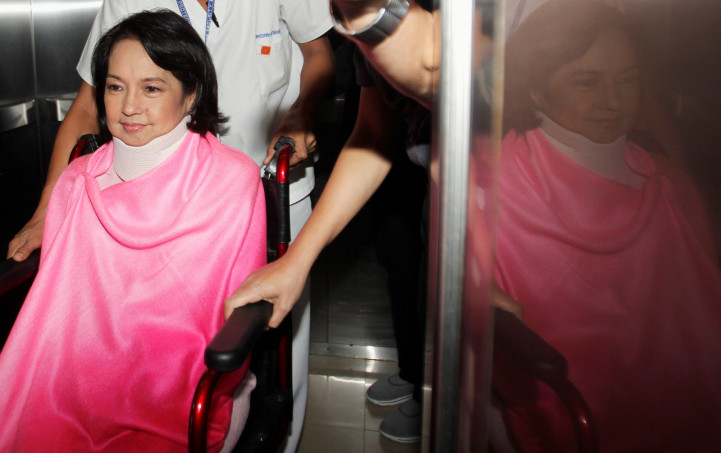 The Supreme Court of the Philippines on Tuesday, 19July, dismissed charges of plunder against former President Gloria Macapagal Arroyo, who has been under hospital arrest at the Veterans Memorial Medical Center in Quezon city, Manila, since almost five years. Supreme Court Spokesperson Theodore Te said at a news conference that the court had nullified the case because of "insufficiency of evidence" and had ordered her "immediate release."
Of the 15 justices who voted on the issue, 11 voted in favour of the former president's petition seeking dismissal of the plunder case against her. She was reportedly accused of misusing 366m pesos (£5.91m, $7.8m) from Philippines Charity Sweepstakes office (PCSO) - the state lottery agency.
Following the verdict, Arroyo thanked the top court for acquitting her and President Rodrigo Duterte for "allowing due process to take its course totally unhampered." She asked for the public to accept the truth now that she had been released. "With the High Tribunal rendering a final decision on this unfortunate episode, I sincerely hope that everyone will respect and recognize the truth that has been established," she was quoted as saying by local media.
One of Arroyo's lawyers, Ferdinand Topacio, said in a statement that the supreme court had once again proved itself "to be the bastion of justice and rule of law".
"[The court's] ruling today has validated what we have been saying for six years now: that the charges against former President Gloria Macapagal-Arroyo are nothing more than disingenuous attempts at political persecution by a corrupt and inept Aquino administration intent on covering up its gross lack of accomplishments by harassing its political opponents."
The 69-year-old was initially arrested in November 2011 on charges of electoral fraud, but was later released on bail in July 2012. In October 2012, she was arrested again on charges of misuse of funds.
She was re-elected to congress in May, in spite of her detention. Former President Benigno Aquino III, accused her of corruption and misrule and she was detained under his governance. Aquino's successor, Rodrigo Duterte, however, had a different stance on her case. He said that the case against her was weak and offered to pardon her to give way for his release.
Arroyo refused his offer saying she had to be convicted of a crime first to be eligible for a pardon.