Survivors of the typhoon which has decimated the Philippines have been looting and foraging "like zombies" in their desperate search for food and supplies.
Shopping malls and grocery stores are being looted in the city of Tacloban on Leyte Island, 48 hours after Typhoon Haiyan ripped through the area.
Just 20 out of 390 police officers reported for duty after the typhoon hit, and many locals have descended into a state of lawlessness in the absence of aid.
Many supplies have been blocked because of the destruction of Tacloban's airport by the 200mph winds, and even more damaging flood waters which smashed the terminal and shattered glass in the control tower.
Lieutenant Colonel Fermin Carangan of the Philippine Air Force described how he watched as up to 40 of his men were swept away by huge waves as they sheltered in an airport office. He then clung to a tree with a seven-year-old boy.
"In the next five hours we were in the sea buffeted by wind and strong rain. I kept on talking to the boy and giving him a pep talk because the boy was telling me he was tired and he wanted to sleep. I think the boy saved my life because I found strength so that he can survive" Carangan said.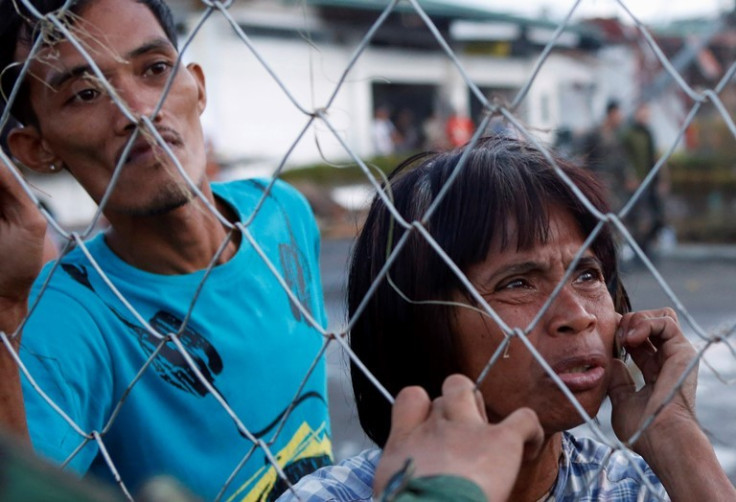 Survivors can be seen holding rags over their noses to keep out the stench of the dead.
Jenny Chu, a medical student in Leyte, said: "Everything is gone. Our house is like a skeleton and we are running out of food and water. We are looking for food everywhere. Even the delivery vans were looted.
"People are walking like zombies looking for food. It's like a movie."
High school teacher Andrew Pomeda, 36, said: "Tacloban is totally destroyed. Some people are losing their minds from hunger or from losing their families. People are becoming violent. They are looting business establishments, the malls, just to find food, rice and milk. I am afraid that in one week, people will be killing from hunger."
As desperate civilians formed long lines at the few aid stations to receive rice and water, President Benigno Aquino visited Tacloban and vowed to keep order.
"Tonight, an armoured vehicle will arrive and our armed forces will display the strength of the state to put a stop to this looting" Aquino said.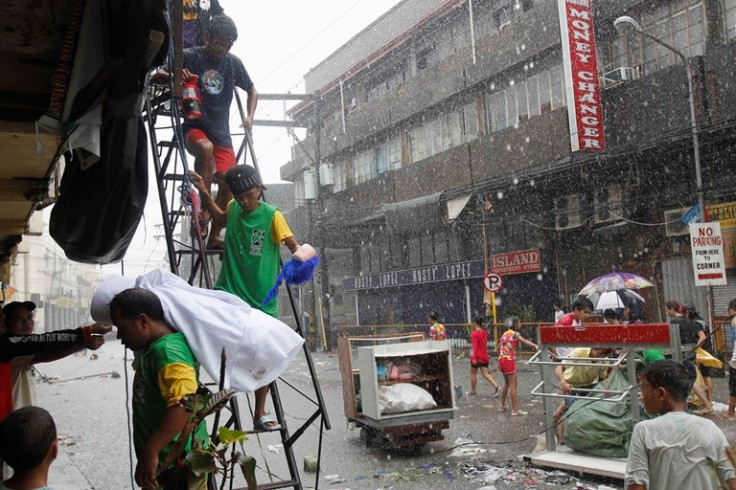 The World Food Programme says it has managed to supply some 40 tonnes of high-energy biscuits, plus emergency supplies and telecommunications equipment, but a series of disasters in the country means relief efforts are stretched to breaking point. Last month a 7.2 earthquake badly affected central Bohol province and there is a refugee crisis in Zamboanga province following conflict.
Both the US and Australia have already pledged financial aid but agencies warn that unless substantial supplies arrive soon, the plight of survivors will worsen. Around 480,000 people are believed to have been made homeless by the storm and it is estimated that up to 10,000 may have died.
Sebastian Rhodes Stampa, the head of a UN disaster assessment coordination team, said the disaster was comparable to the Boxing Day tsunami of 2004.