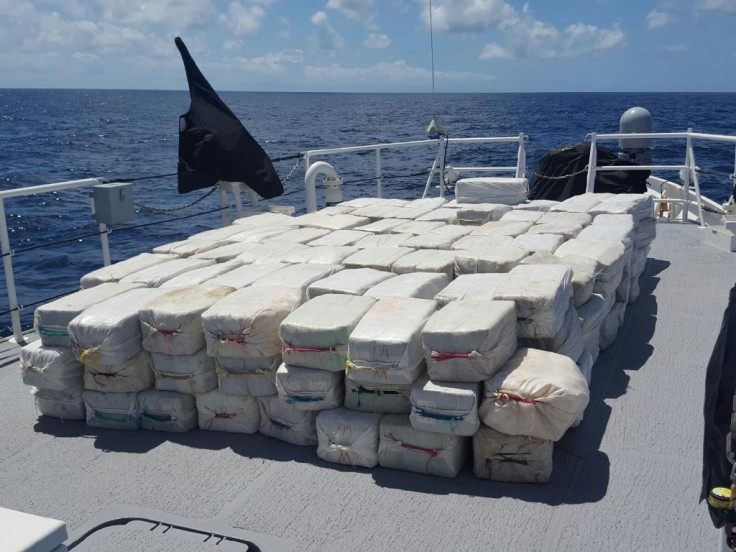 An international anti-drug smuggling operation involving British police has led to 4.2 tonnes of cocaine being seized from a fishing boat off the coast of South America – said to be the biggest bust in the Atlantic for almost 20 years.
The drugs, with a potential street value of up to £450m, were discovered on a 70-foot vessel in international waters about 115 miles north of Paramaribo in Suriname on 16 February.
The seizure from the boat, named Lady Michelle, was said to be the largest cocaine haul in the Atlantic since 1999.
Four members of the vessel's crew – all Guyanese nationals – were arrested and are being questioned.
It follows an anti-drugs operation involving the UK's National Crime Agency (NCA), the US Coast Guard (USCG) and US Drug Enforcement Administration (DEA).
The haul was taken to San Juan, Puerto Rico, by a USCG cutter where the cargo, made up of 185 bales weighing a total of 4,240 kilos, was unloaded.
Steve Reynolds, the NCA's head of international operations, said: "We believe that the drugs were headed for West Africa, a well-known staging post for cocaine destined for the European market.
"Based on UK prices our estimate is that this shipment would have had a wholesale value to organised crime of more than £150 million, but if cut and sold on the streets of Britain or Europe it could generate two or three times that.
"This seizure will have put a massive dent in the pockets of organised criminals in South America, Africa and Europe. It will also have caused considerable damage to their cash flow, their credibility with criminal associates around the world, and their mutual trust."
Captain Robert W. Warren, the USCG San Juan commander, added: "The excellent co-ordination between the US Coast Guard and international law enforcement prevented this major drug shipment from reaching communities."
The DEA said cross-border collaboration had become vital to responding to the increase in cocaine flow from South America.
The ongoing investigation into the shipment will now be led by the DEA, with support from the NCA.
The crew of the Lady Michelle, which is registered in the Caribbean nation of St Vincent and Grenadines, will face potential prosecution in the US Virgin Islands.