Princess Charlene and Prince Albert II of Monaco have released the first pictures of their twins.
The royal parents introduced their newborns, a boy and a girl, a day before Christmas.
One of the pictures shows 36-year-old Charlene holding her daughter Gabriella and son Jacques in her arms as Prince Albert looks on.
Released in the holiday season, the photograph was taken against the backdrop of a Christmas tree.
In the pictures, the proud parents are donning shirts that match the red and white festive decorations behind them. New additions Prince Jacques and Princess Gabriella are wearing baby blue and pink dresses.
The photographs were taken at the maternity ward of Princess Grace Hospital in Monaco. These are the first official photos of the babies and were released as a Christmas gift to Monaco and friends of the Principality of Monaco, the Palace said in a statement.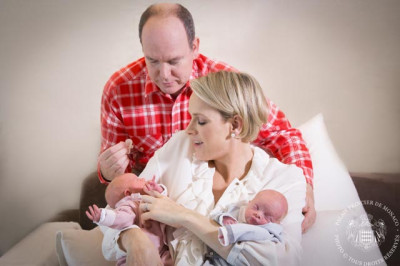 Princess Charlene, a former South African Olympic swimmer, gave birth to Jacques Prince and Princess Gabriella on 10 December. The twins were born two minutes apart.
Though Jacques was born after Gabriella, he becomes the first in the line of succession as per the lineage of the Monaco royal family.
"Prince Jacques Honore, Rainier, has the quality of Hereditary Prince. According to historical use established by the Treaty of Peronne (1641), he received the title of Marquis of Baux (in Provence)," a statement from the Palace said.
Princess Gabriella, Therese, Mary, the second child in the line of succession, received the title of Countess of Carladès (Auvergne).
Gabriella and Jacques are the first children of Princess Charlene and Prince Albert II. They tied the knot in July 2011. Prince Albert is the father of two more children from his previous relationships.