Who says sneakers are just made for walking? Pizza Hut has introduced a new pair of smart, high-top sneakers that can order you a steaming hot pie without moving at all.
Dubbed Pie Tops, the limited-edition sneakers use geolocation to let you order and have your pizza delivered to wherever you are. The pair of white shoes features a button on the tongue that connects to a mobile app and can order you a large pizza upon pressing it.
The accompanying app will allow you to set your order and adjust the button's push requirements.
Handmade by Los Angeles-based Dominic Chambrone, also known as the Shoe Surgeon, just 64 pairs of "Pie Tops" will be handed out by the popular pizza chain in honour of March Madness - the college basketball tournament where 64 teams make it to the Big Dance.
Ad agency Droga5 came up with the concept for the smart shoes.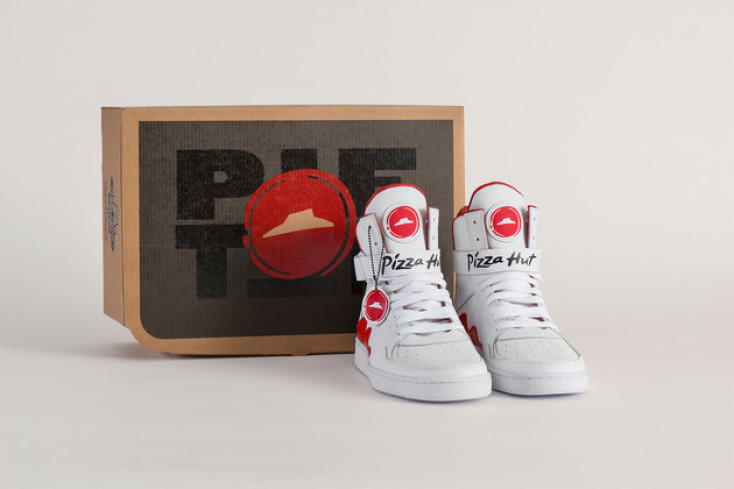 "We loved it," David Daniels, VP of media and advertising for the Yum Brands chain, AdWeek reports. "This is one of those ideas that as soon as we saw it, we wanted to buy it. It hit everything we wanted to communicate in this window in a fun, really relevant way. And it was beautifully tied to the thematic of the tournament and the season."
However, these smart kicks will be only given to influencers, people in the media and a few lucky fans.
Daniels added that the key idea was to highlight the ease of ordering a pizza from the chain via a variety of digital platforms and modes including one's phone, laptop, tablet, Alexa-enabled devices, Facebook Messenger and Twitter among others.
"Easy as pie," former NBA superstar Grant Hill says in a quick 30-second commercial promoting Pizza Hut's new sneakers and delivery deal.
This isn't the first time a fast-food chain has come up with quirky, tech-savvy marketing gimmicks to promote their outlets and grub.
In December last year, KFC introduced an AI-enabled store equipped with ordering kiosks that can scan a customer's face and make recommendations on what they can order off the menu based on their age, gender and facial expression. The fast-food chain also introduced a thin, rechargeable wireless keyboard in Germany dubbed the KFC Tray Typer that can connect to your smartphone via Bluetooth and let you text without getting the screen dirty. In India, it launched Watt a Box, a meal box equipped with an inbuilt powerbank to power up your smartphone.
In August last year, Pizza Hut UK came up with the "world's first playable DJ pizza box", courtesy of the London-based company Novalia which specialises in printed electronics, complete with touch-sensitive turntables, pitch and volume controls, crossfader and play, cue and sync buttons.
Earlier this month, Domino's Pizza updated its Facebook Messenger chatbot to let customers place to order anything from the menu via Messenger. Previously, hungry customers had to create a Domino's profile and adjust their preorder settings on the chain's site.
The pizza joint also allows peckish customers to order a pie via Twitter simply by tweeting the pizza emoji or the hashtag #EasyOrder to the @Dominos account.