Apart from selling stolen content, pirates have now found a new way to make their fortune — by spreading malware. They can earn up to $70m per year by merely spreading malware on users' computers.
"Baiting internet users, stealing their personal information, and taking control of their computers is becoming big business — an estimated $70m (£46.2m) per year just from peddling malware," according to a study that goes by the name Digital Bait, conducted by the cybersecurity firm, RiskIQ and commissioned by non-profit organisation Digital Citizens Alliance.
"Historically, they have profited by taking money out of the pockets of content creators. Now, content thieves have created another stream of revenue that comes from the spread of malicious materials to the computers of unsuspecting consumers. Content thieves are no longer satisfied with targeting creators, not when there is big money to be made from preying on consumers as well."
After probing 800 sites that distribute stolen movies and television series, the study, published in December, states one out of every three theft sites contain malware. It poses a big threat to consumers subscribing to the content, as the malware threat is 28 times more than genuine sites. Even their computers are at risk, as 45% of malware is delivered through "drive-by-download", without users' knowledge.
According to the findings by RiskIQ, 33% of content theft sites had at least one malware incident during the time cybersecurity firm collected data. Once hackers get access to a user's computer after spreading malware, they can use the system for a wide range of activities such as stealing bank and credit card information, users' personal information and even lock their computer.
In Google's Transparency Report there are some 4,865 sites that have received 1,000 or more copyright infringing URL removal requests in the year prior to this study. "Projecting the earnings from the 229 sites in the sample group to this broader universe suggests that these content theft sites may be generating roughly $70m in revenue per year."
Trojan - the main culprit
More than half of the malware detected by RiskIQ's malware analysis tool is Trojan that secretly installs itself to obtain unauthorised access to a computer. Apart from Trojan that spreads 54% malware, other offenders are adware, toolbar and botnet. The Remote Access Trojans (RATs), a subset of Trojans, could steal users' credentials and financial data, or even take control of users' web cams to use them for spying on them.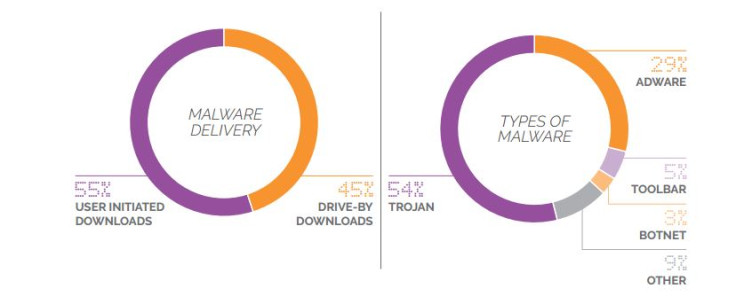 Xtreme Rat, Bifrost, Back Orifice, Njrat, Adwind, Darkcomet, Blackshades, SBU7, Poison Ivy and Cerberus are the top 10 RATs RiskIQ found through its scans.
Advertisers at risk
This could create trouble for the advertising industry. The Interactive Advertising Bureau (IAB) – the association for online advertisers and sellers – claims to have earned a revenue of $49.5bn (£33bn) in 2014, thanks to innovation in advertising. But such malware attacks could change their game. "The US Department of Justice reports that 16.2 million US consumers have," suggests the study.