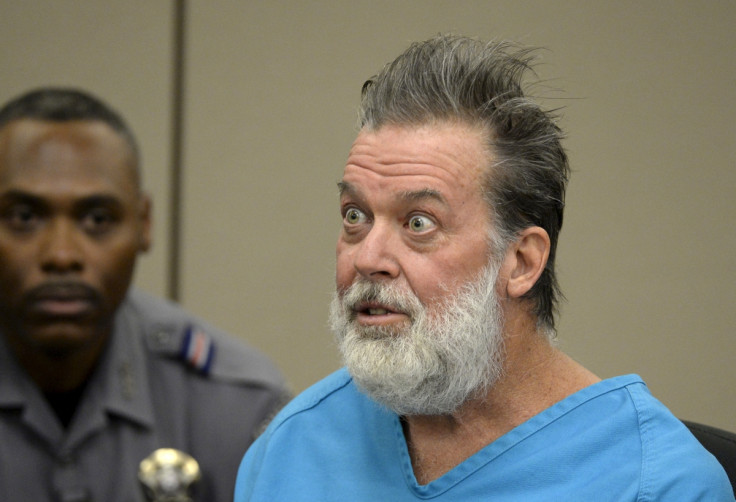 Planned Parenthood shooter Robert Lewis Dear Jr was charged with 179 counts, including first-degree murder, on 9 December in Colorado Springs, Colorado. Dear, who appeared bearded and disheveled, interrupted proceedings several times to admit his guilt and voice his anger.
"I'm guilty. There's no trial. I'm a warrior for the babies," Dear shouted at one point, according to the New York Times. "Let it all come out. The truth!" he screamed later. According to The Times, as Judge Gilbert A Martinez discussed the pretrial publicity order, Dean shouted: "Could you add the babies that were supposed to be aborted that day? Could you add that to the list?" He reportedly had nearly 20 outburst during the hearing, CNN reported.
Dear also made note of his public defender Daniel King, who also represented Aurora theatre shooter James Holmes. "Do you know who this lawyer is?" Dear asked. "He is the lawyer for the Batman shooter — when they drugged him all up and that's what they want to do to me."
The court appearance was the first in-person for Dear since his 27 November arrest. Dear was arrested following a standoff with police when he attacked a Planned Parenthood centre, killing three and injuring nine. The 57-year-old, who has been described as an anti-government loner with extreme anti-abortion views, reportedly said "no more baby parts" to investigators following his arrest.
Dear appeared in court via video on 30 November when authorities charged him with a count of first-degree murder. According to The Times, following the initial hearing, District Attorney of Colorado's Fourth Judicial District Dan May declined to say whether he would seek the death penalty. Jeff Dorschner, a spokesman for the US attorney for Colorado, told The Times that a federal investigation by the FBI and the Bureau of Alcohol, Tobacco and Firearms was still underway.
The gunman entered the Planned Parenthood centre in Colorado Springs and used a semi-automatic rifle to fatally shoot three people. The victims were identified as 29-year-old Iraq war veteran Ke'Arre Stewart, 44-year-old University of Colorado police Officer Garrett Swasey and 35-year-old mother of two Jennifer Markovsky. Dear faces eight charges of first-degree murder, depending on the circumstances, and 131 counts of attempted first-degree murder.