The exposure of what is believed to have been the world's largest child sexual abuse website has led to nearly 900 suspected paedophiles being arrested worldwide, including almost 370 across Europe.
Hundreds of sexually abused children have also been identified or rescued from their abusers, in what investigators said was "one of the largest and most complex investigations ever undertaken in this field".
The probe saw cooperation between law enforcement agencies across the world, led by the FBI and US Department of Justice. This included police in countries said by the FBI to have an historically poor record on collaboration.
It follows the exposure of Playpen, a notorious site on the dark web intended to allow its 150,000 online members to anonymously upload and access tens of thousands of illegal child abuse images and videos.
Investigators said the site's paedophile content was indexed by age, sex and type of sexual activity involved, with one section focusing exclusively on toddlers and another on incest.
The site's creator and lead administrator, 58-year-old Steven Chase, from Florida, was sentenced to 30 years in prison earlier this week, with two other administrators jailed for 20 years.
The exposure of the site by the FBI in December 2014 led to the creation of Operation Pacifier, which saw US agents controversially take control of Playpen for 13 days, using hacking methods to locate users of the site.
The operation had the support of several other law enforcement agencies, including Europol, and generated hundreds of follow-up investigations around the world.
In total, 870 people have been arrested worldwide, including 368 in Europe. The FBI said some 296 sexually abused children have also been rescued or identified internationally – the vast majority outside the US.
The FBI heralded it as the most successful effort to date against criminal users of Tor – a hidden online service allowing users anonymous activity.
"We were only able to pull it off with a lot of support from our international partners and field offices," said Special Agent Dan Alfin, who investigated the case as part of the Bureau's Violent Crimes Against Children section.
Sir Julian King, EU Commissioner for the security union, added that the hundreds of suspected paedophiles arrested had dealt "a hugely significant blow" to online paedophile rings.
"As a result, hundreds of sexual abusers who prey on innocent children are behind bars or on their way to incarceration and hundreds more child victims have been rescued," he said. "The growing sophistication of the use by criminals of the internet cannot be understated and it is truly heartening to see how, by working globally, we are able to strike back and to protect our citizens."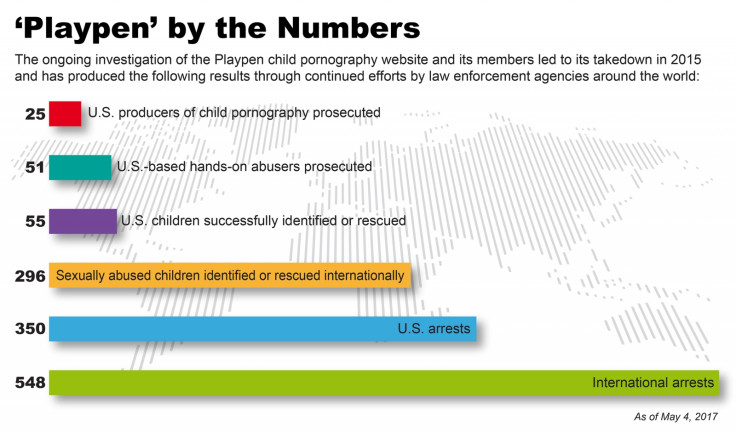 The investigation into Playpen and creator Chase began when the site launched in the summer of 2014.
The FBI said it quickly became aware of the site, but "given the nature of how Tor hidden services work, there was not much we could do about it," Special Agent Alfin recalled.
Until December 2014, that is, when Chase, agents said, slipped up and revealed Playpen's unique IP address — a location in the US. The gaffe was noticed by a foreign law enforcement agency, which notified the FBI.
It led agents take over the site for 13 days and hack visitors's computers to find their location – a move that some said was a breach of civil liberties.
While the Playpen site has now been down for more than two years, but the FBI warned similar sites continue to operate and proliferate on the dark web.
"It's ongoing and we continue to address the threat to the best of our abilities," said Alfin. "It's the same with any criminal violation: As they get smarter, we adapt, we find them. It's a cat-and-mouse game, except it's not a game. Kids are being abused, and it's our job to stop that."