Ashley Graham is regarded as one of the most respected plus-size models but some now believe she is undeserving of the title. Many flooded social media with claims that the Sports Illustrated model has lost too much weight and should not be thought of as the poster girl for curvy women. However, Graham has hit back at the criticism and accused trolls of body-shaming.
The furore began when Graham, 28, posted a photo of herself on Instagram on 21 July wearing a white crop top and skirt combo teamed with a leather jacket. The model captioned the image: "Glam squad magic." Graham was promptly bombarded with comments suggesting she had become "too skinny" while others accused her of altering the image with Photoshop.
One critic said: "She's all about true beauty and loving yourself, yet she gets her pics photoshopped as f**k," while another weighed in: "Getting skinnier by the day...... fame has made ashley follow the herd and lose her voluptiousness. To me not a poster girl anymore for the fuller figure."
Another sceptic stated: "SHES NOT PLUS SIZE ANYMORE !" while another agreed, writing: "What happened to embracing your size? You advertise that message then go and lose weight?? I mean hey more power to you, but idk... puzzled."
Somewhat sympathising with Graham, one other commentator said: "I completely agree that no one should have control over Ashley's weight except Ashley, but I understand where fans are coming from. As someone who had an eating disorder she was one of the main plus sized models I admired and inspired me to fight my illness. It's scary when someone who I see as gorgeous and healthy, and who makes me feel like I don't need to meet society's standards, suddenly starts to meet society's standards."
The Lane Bryant model responded to the backlash and reportedly wrote in the photo's comments section: "People come on my page and body shame me because I'm too big, because I'm too small, because I'm not good enough for their standards... But at the end of the day I'm good enough for me. Angles will make anyone look bigger or smaller and I just happen to know mine."
In a Snapchat video, the lingerie designer added: "I will not let others dictate what they think my body should look like for their own comfort, and neither should you." Making no secret of her desire to look after her body, Graham later posted a photo of herself working in the gym with a personal trainer. She captioned the image: "#curvyfit #beautybeyondsize."
While critics continued to lambast the model, fans showered the runway star with plenty of encouragement, including one who wrote: "She looks amazing and healthy that's all that matters."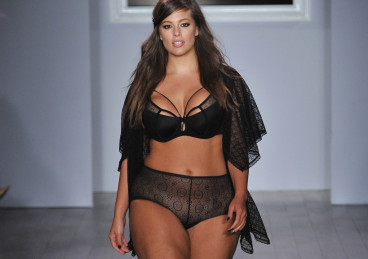 Another stated: "She looked great before & she looks amazing now! Hating on someone for taking care of themselves just shows a lack of maturity of the haters. You can blame genetics or do something about it. @theashleygrahamloves who she is regardless but whole health is about taking care of your body too, NOT just your mind. Props to her for not letting the trolls get under her skin!"
One other supporter chimed in: "How the hell did our society get to this point? People get upset about some random stranger's weight. No wonder why we are on the brink of collapsing as a country," while another wrote: "Body shaming comes in all forms. Saying she not a plus size anymore or saying she losing weight is still body shaming. She looks fantastic no matter what. Get over it."
In June 2016, supermodel Chrissy Tiegs slammed Graham and other plus-size models for promoting what she deemed to be an unhealthy body image. Tiegs told E! News: "I don't like that we're talking about full-figured women because it's glamourising them because your waist should be smaller than 35 [inches]."