Gumtree users in London and across the UK are offering to drive Pokemon Go users around to collect the creatures on the hit new smartphone app. Drivers are charging between £25 and £30 per hour for the service.
One person is also offering a "phone walking service" whereby they take your smartphone, open the car and walk around collecting Pokemon; they will also offer to walk your dog at the same time.
The adverts have arrived despite Pokemon Go not yet being available in the UK. However, getting the app onto an iPhone and Android smartphone is easy and free, meaning thousands of fans have already started playing the game, which has taken the internet by storm.
A Gumtree advert from a driver in Eastbourne, Sussex offers to "safely drive you and up to two friends around Eastbourne/Polegate/Pevensey catching rare Pokemon and taking [control of] gyms. In-car charging and choice of music also available."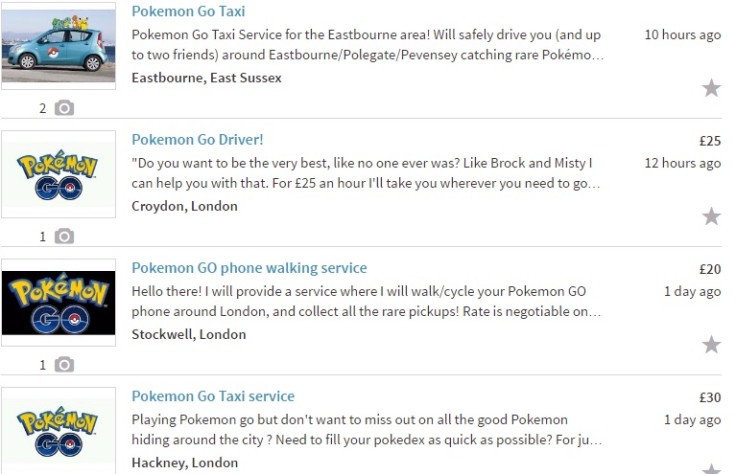 The seller describes themselves as "an experienced Pokemon Go player" who is at level 17 and knows "how to track and catch Pokemon and get the most out of your journey." In two days they have found Lapras, Magmar, Electabuzz and all starter Pokemon, according to the advert. They charge £25 for one hour and £40 for two, and are available between 6:30am and 8:30am on weekdays.
Another advert, this time in Stockwell, London, charges £20 per hour to cycle or walk around the local area with the customer's phone, collecting all rare Pokemon. Their base rate is £20 per hour and they will also walk dogs.