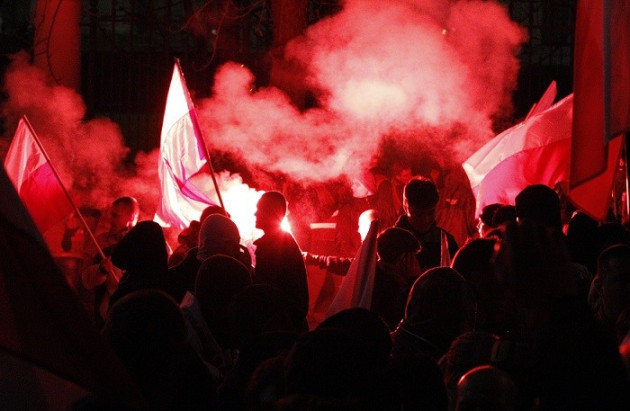 Violent clashes have marred Poland's Independence Day celebrations for the third year running as police fired rubber bullets at far-right protesters in the capital Warsaw.
Twelve police officers were injured and more than 70 people arrested as the annual march led by the Radical Nationalist party descended into violence. Rioters threw rocks, fireworks and other missiles at officers who responded with pepper spray and rubber bullets in an attempt to control the disorder.
The violence started when groups broke off from the main protest and began setting fire to cars and then a building occupied by left-wing radicals.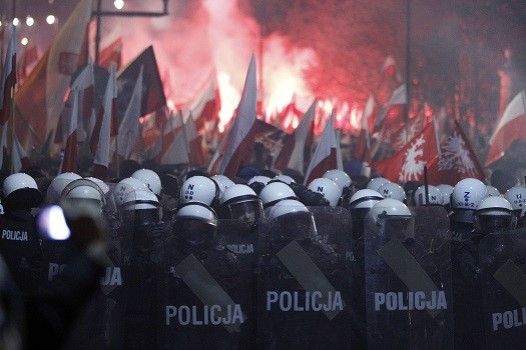 The youths, who covered their faces with balaclavas, also set fire to a rainbow coloured archway and launched an attack on the city's Russian embassy.
Russia is now demanding an apology from Poland following the attack on the embassy, which some Polish residents see as a symbol of Soviet repression and domination following World War II.
Russia is also seeking measures to provide for the "security and normal operation of Russian diplomatic representations in Poland", the Russian foreign ministry said.
The violence has been widely condemned in the eastern European country.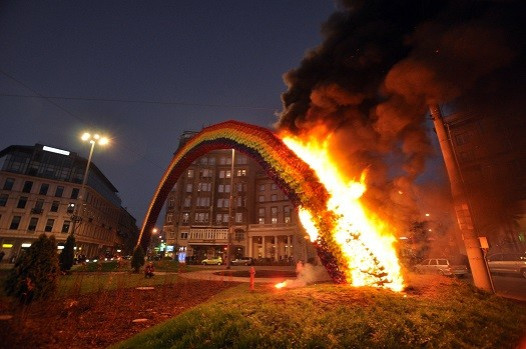 "Nobody was able to foresee such savagery," Poland's interior Minister Bartlomiej Sienkiewicz said. "For the first time since Poland's independence 24 years ago, we saw a physical attack on the territory of a foreign diplomatic post. We haven't seen such a barbaric behaviour before."
Prime minister Donald Tusk described the protests as "unacceptable".
Blaming the attack on ultra-nationalist groups, the Polish foreign ministry added: "Behaviour of this kind with regard to a diplomatic mission merits absolute condemnation and does not correspond to a worthy celebration of Independence Day on 11 November."