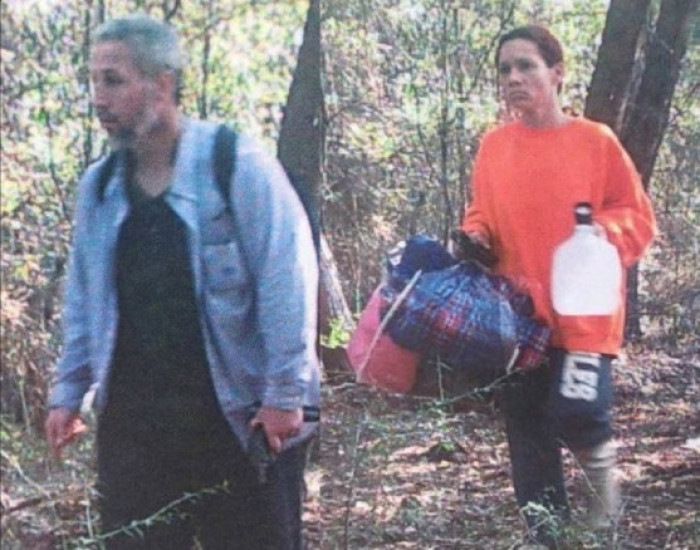 A major manhunt is underway in Florida and Alabama for a "deranged" man and woman suspected of the killing of three women and the non-fatal shooting of another woman in her home.
William "Billy" Boyette and Mary Rice are thought to be hiding out in woods in the Florida panhandle and may still be driving a car they stole from the injured woman.
On 31 January, the bodies of Alicia Greer, 30, and Jacqueline Jeanette Moore, 39, were discovered at the Emerald Sands Inn in Milton. Both had been shot.
Greer had been in a relationship with Boyette for several months, but none of the other victims are thought to have had any connection to the suspects.
On 3 February, 52-year-old Peggy Broz was shot dead in her home in Lillian, Alabama and her car was stolen. Then, on Monday 6 February, Kayla Crocker, 32, was shot and critically injured in her home in nearby Pensacola. Her two-year-old child was there but did not see the shooting.
Crocker's white Chevrolet Cobalt was stolen and may still be in the hands of the couple. According to CNN the car has a Florida registration: 9613BJ.
Boyette, 44, is reportedly a drug dealer who has been convicted of multiple crimes, including domestic violence. Rice was initially listed as a "person of interest" in the attacks, but was upgraded to a suspect after videos surfaced of her with Boyette and making no effort to escape when she was alone. She is believed to have dyed her hair orange and the two are thought to be hiding out in woods.
Two capital murder warrants have been issued and police dogs are involved in the manhunt for the couple. A reward has also been offered for information leading to Boyette and Rice being arrested.

Boyette was described as "a deranged man" by Santa Rosa County Sheriff Bob Johnson, who addressed him directly and said: "Mr Boyette, there are only two places you are going to end up – in a prison or a cemetery. The decision is yours ... turn yourself in and we will treat you fairly."
According to Fox News, Johnson added: "The ending is up to him. We are not going to take any chances."