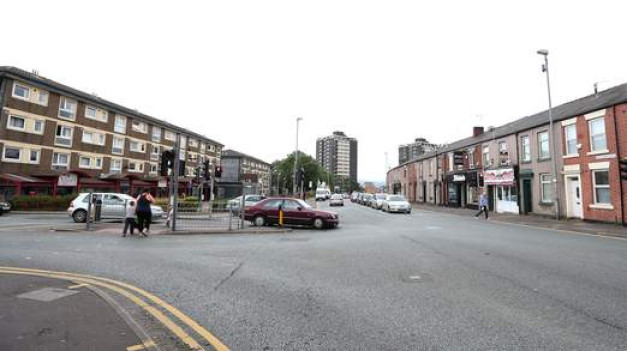 A 90-year-old woman was dragged off the street and raped in a brutal attack in Rochdale, Greater Manchester, police have confirmed.
The attack happened as she walked to a local shop at 6.45am to buy a bacon sandwich. She had a £1 coin in one hand and a walking stick in the other.
The victim described feeling a hand cover her mouth as she was dragged backwards in Spotland Road at about 6.45am on Tuesday (24 June).
She then lost consciousness and awoke on the floor of the street after some time. She managed to walk to a nearby butchers, where she raised the alarm. Staff at the shop then alerted police.
Superintendent Alistair Mallen issued a severe warning to the perpetrator.
"What I'd say to that individual - and if he's watching me now - get yourself to a police station and explain your actions. If you don't, I'll tell you now, we will be knocking at your door in the next 24 hours."
He said that the victim is now being supported by police after the horrific ordeal.
"I am sure the entire community will share our revulsion at this. The victim has been through a horrific ordeal and we are all hoping she can make a full recovery. She is now being supported by experienced officers and we are doing everything possible to reassure her that we will catch the man responsible," he explained.
"This kind of attack is, thankfully, so rare that it will naturally cause a huge amount of concern in the community. I now want people, including the criminal fraternity, to imagine if that had been your mum or grandma. I want to harness these feelings and use them to help the police do their job – catch this man and put him before the courts."
Simon Danczuk, Labour MP for Rochdale, said there was "a real sense of shock and horror" in the community over the attack.
"Local people are struggling to comprehend how anyone could do this. Our heart goes out to this poor woman. She must have gone through hell," he said.
"There is a real sense of shock and horror in the community and the police need to do everything possible to catch this sick individual. But they need the help of the community and people must stand up and be counted.
"Someone somewhere will know something that can help the police and I would urge them to search their conscience and come forward to pass that information on," he added.
"Sexual abuse has left painful scars on our town in recent years and we are determined to confront this crime and make sure anyone connected to this type of activity is jailed. There is a huge amount of anger across the town and we need to unite to help ensure that criminals like this have no place to hide. Anyone with even a glimmer of suspicion should contact the police immediately."
Manchester Police are keen to speak to anyone who may have seen the victim or the offender.
The pensioner is described as white and was wearing a white summer dress with a floral print, and a cardigan. The only description released of the offender is that he was white.
Anyone with any information should call the police in Rochdale on 0161 856 8470/8420 or Crimestoppers on 0800 555111.