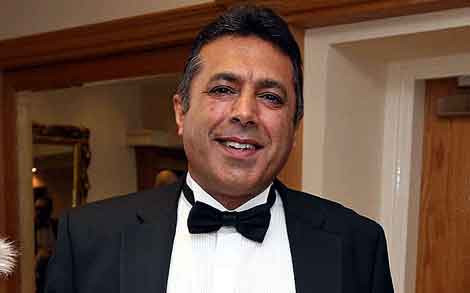 Police in Punjab have arrested a man over the murder of a multi-millionaire hotelier from Wolverhampton who went missing on a business trip.
Ranjit Singh Power, 54, was supposed to fly back to Britain earlier this month and his family became increasingly worried when he did not arrive back at Birmingham Airport.
Power, who owns the Ramada Park Hall Hotel in Wolverhampton, had been missing since he flew to India on 7 May, leaving his family worried that he may have been kidnapped as he did not contact them.
Assistant Jalandhar Police commissioner Balwinder Singh says a man has been charged with murder.
Sukhdev Singh, covered his face today as officers took him to a police station in Jalandhar, and he was charged with murder.
According to reports in India, it is believed that the murder may have erupted over a property dispute.
His body was found in a forest near Anandpur Sahib in the Ropar district and the police believe that he had been strangled.
Local police are reported to have found the body following information made by the cab driver of Baldev Singh Deol – who was the victim's friend and business partner.
Deol, is believed to be in England, and police are believed to be seeking the assistance of Interpol to contact him.
Power's partner, Angela Bir, who runs the grade-two listed four star Ramada Park Hall Hotel with him, described Power as her "soulmate".
James Jagpal, general manager at the Ramada Park Hall Hotel, told the Telegraph: "We have just been notified of the death of Mr Power, one of our directors. Mr Power was a large part of the Ramada Park Hall Hotel and Spa and I know the whole team here will be extremely upset. I will assure Mr Power's wishes regarding the hotel will be delivered. At this time my whole team will need time to grieve for such a charismatic person."
Power was expected to return to the UK on 14 May and it is suspected that he could have travelled to Phagwara.
Phagwara, is roughly more than 60 miles away from Amritsar Airport in Punjab, which is where he arrived for a last-minute business trip.
He had last spoken to his wife after landing in Amritsar, but he had not been seen or heard since.
Mr Power's son Gian, 23, said: "My father has been murdered in India. The police investigation will continue in both the UK and in India and we will continue until answers are found and justice is served."
The hotel was originally a mansion built in the 1750s but it was converted to a hotel in 1981 and became the Ramada Hotel and Spa in 2011 when it underwent a £1.2m refurbishment.