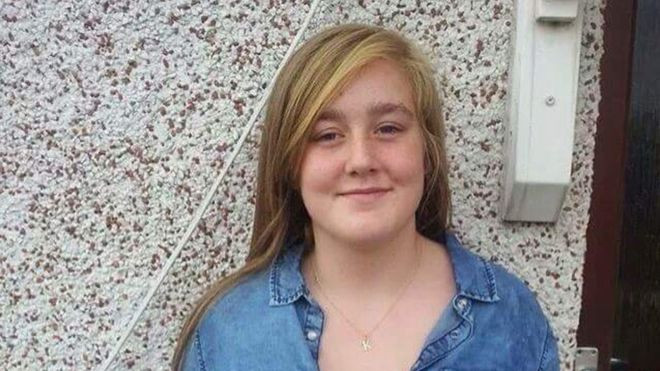 Police searching for missing teenager Kayleigh Haywood have confirmed that they have found a body in a field in Ibstock in Leicestershire. The body was found at about 10pm local time on Wednesday (18 November).
Formal identification of the body has not taken place. The 15-year-old girl from Measham has been missing since Friday evening when she was dropped off outside the Ibstock Community College by her father.
Chief Supt David Sandall said: "While formal identification has yet to take place, Kayleigh's family are aware of the discovery and inquiries are continuing." Police had already said they believe Kayleigh had been killed after they found her mobile phone, belongings and items of clothing.
Speaking before finding the body, Sandall had said that police "feared the worst" and were "increasingly concerned for Kayleigh's safety." Two men, aged 27 and 28, are being questioned on suspicion of murder. They were initially arrested on Monday on suspicion of kidnap but were later re-arrested on suspicion of murder. They are still being held by police.
Sandall has urged anyone who was in the Diseworth or Belton areas between Saturday afternoon and Monday morning to get in touch with the police force. Although she was last seen on Friday evening, she made contact with her parents the following morning but has not been seen or heard from since.
The Daily Mail said that she had asked her parents for permission to stay over at a friend's house but is believed to have instead met up with a 27-year-old man she recently met on Facebook. Sandall has confirmed that Haywood's Facebook account is being examined by officers.
Social media filled with messages for Haywood
A Facebook page was set up called: Please help us find Kayleigh Haywood. Two hours ago, a BBC news report that a body has been found was posted onto the site, causing a flurry of RIP messages to be posted.
Janine Batty posted: "RIP Sweetheart. My heard condolences with all who loved and knew Kayleigh." Another person, Karen English wrote: "Her aunt has confirmed it was her."
In Haywood's own Facebook page, a long list of RIPs have been posted, with again someone saying that a family member has confirmed that the body found was the teenager. There has been no official confirmation from the police though.
One Facebook user also posted the pictures of two men allegedly arrested by police, accompanied by some strong language. There were some comments posted urging the person to take down the pictures as it may jeopardise any court trial.
A mother of five, Odessa Bircher has set up a crowd funding page in JustGiving to help raise £500 for the family. So far £130 has been raised.