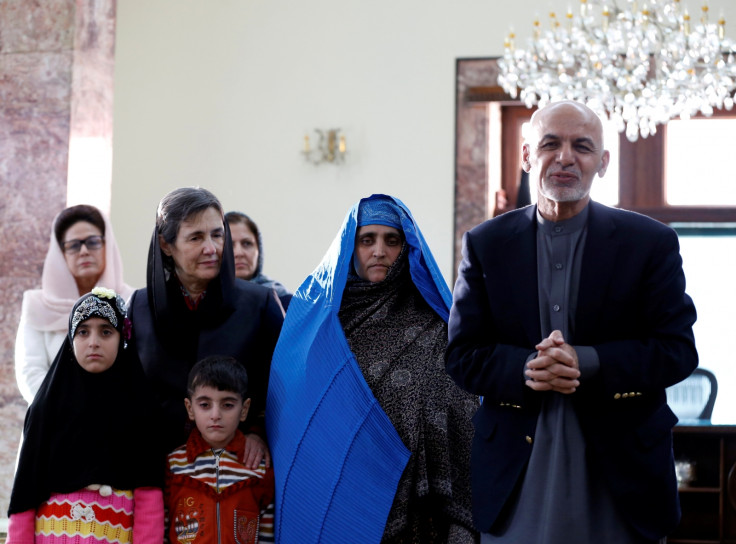 'Afghan girl' Sharbat Gula, who was immortalised on the cover of the National Geographic magazine's June 1985 issue, returned to Afghanistan after being deported by Pakistan authorities. On arriving in Kabul with her four children, she was welcomed by the country's president Ashraf Ghani and his wife and First Lady Rula.
"Pleased to have welcomed Sharbat Gula and her family back to [Afghanistan], her life inspires us all and she represents all the brave women of this land" Ghani mentioned on Twitter alongside a photo of him hugging her son and daughter.
During the ceremony at the presidential palace in Kabul, he also promised to provide Gula with a furnished apartment to ensure that she "lives with dignity and security".
Gula, with her striking green eyes, became the face of Afghan refugees who fled to Pakistan during the Soviet invasion of 1979. Her portrait which was taken by photo-journalist Steve McCurry while she was living in one of the refugee camps has been likened to the Mona Lisa.
However, Gula, now 45, was arrested in October for living in Pakistan using forged documents. The police took her from a hospital in Peshawar, where she was being treated for Hepatitis C, and handed her over to the Afghan officials at the Torkham border.
Asmatullah Wazir, an official at the border told AFP that she crossed into Afghanistan in the early hours of 9 November and was later flown to Kabul for the meeting with the president.
Gula has expressed her sadness at being forced to leave Pakistan, a place she considers more her home than the place of her birth. Prior to her deportation she told AFP, "I had decided to live and die in Pakistan but they did the worst thing with me. It's not my fault that I born there (in Afghanistan). I am dejected. I have no other option but to leave."