President Vladimir Putin hopes for 'peace and prosperity' for Russia in 2017
In his New Year's address, Putin said that 2016 had been a 'difficult' year for the Russian people.
Vladimir Putin has described 2016 as a "difficult" year for the Russian people. Addressing the nation in a New Year speech shown on state television, the Russian president said the challenges they had faced had "united us".
Focusing on the accomplishments of the past year he added: "The main thing is: we believe in ourselves, in our abilities, in our country. We are working, working successfully and are accomplishing a lot. We have a huge, unique and beautiful country".
He expressed his hope that 2017 would bring "peace and prosperity to our great motherland Russia".
While Putin's already fraught relationship with President Obama reached an impasse after Thursday's announcement by the US that it would expel 35 Russian diplomats in retaliation for what it said were Russian cyberattacks on political groups during the 2016 election campaign, the Russian leader said he now looks forward to a "constructive" relationship with Donald Trump after he is sworn in as US president.
He said the two countries, "acting in a constructive and pragmatic manner, will be able to take real steps to restore the mechanisms of bilateral cooperation in various areas and take their interaction in the international arena to a whole new level.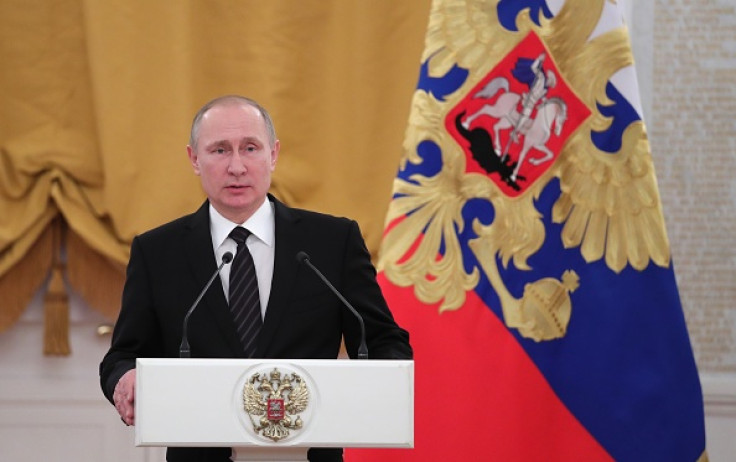 "Major global and regional challenges that our countries have confronted in recent years clearly confirm that Russia-US relations are an important factor in ensuring stability and security in the modern world," he said.
Putin also made a point of extending a message of congratulations to a long list of world leaders, dignitaries and government officials, including Britain's Queen Elizabeth II and Prime Minister Theresa May, Turkish President Recep Tayyip Erdogan, Chinese President Xi Jinping, French President François Hollande, German Chancellor Angela Merkel, Pope Francis, UN Secretary-General Ban Ki-moon, and Israeli Prime Minister Benjamin Netanyahu, but noticeably excluded president Obama from his well-wishes.
In a post on Russia's official Twitter account on Friday (30 December), Putin did however, send a "New Year greeting to President Obama & his family, also to President-elect @RealDonaldTrump & American people."
Responding to the new sanctions imposed on Russian officials the tweet included a message which read: "I invite all children of the US diplomats in Russia to the New Year and Christmas children's show at the Kremlin!"
In 2016, Russia took centre stage in world affairs, playing a pivotal role in brokering a fragile ceasefire in Syria's embattled city of Aleppo ,in co-operation with Turkey.
In recent weeks, the country has been beset by tragedy. On 20 December, the Russian ambassador to Turkey, Andrey Karlov, was murdered in Ankara by an off-duty Turkish police officer. Karlov was shot dead as he gave a speech at an art exhibition. Russian embassy sources have said they believe the attack was carried out by a radical Islamist.
On Christmas Day, a Russian military plane crashed into the Black Sea, killing all 92 on board, including dozens of singers from the country's famous military choir.
Putin has declared that 26 December will be observed as a day of national mourning as he pledged to conduct a thorough investigation and support the families of the victims.
© Copyright IBTimes 2023. All rights reserved.