Press conference fallout: Conor McGregor reacts to microphone cutting, casts doubts on UFC return
KEY POINTS
McGregor had his microphone cut off while he was trying to retort to Mayweather's speech.
The Irishman also hinted that he may not return to fight in the octagon in 2017.
Conor McGregor was in uncharted territory as he took part in the first boxing press conference of his world tour with Floyd Mayweather in Los Angeles on Tuesday (11 July).
Instead of the usual UFC press conferences where the Irishman would usually interrupt his opponent and have constant back-and-forth exchanges on the microphone, McGregor instead had to stand up in front of the 20,000 fans and media members in attendance and deliver a speech.
When it was Mayweather's turn to give his speech, McGregor retorted two times with his microphone before it was completely cut off the third time as "Money" continued taking pot shots at the "Notorious."
"Yeah, they took the mic off," McGregor told reporters after the conference. "Look, f**k them. F**k Showtime. F**k them all."
"They can do nothing after Aug. 26. They can try and do all these tricks all they want. Aug. 26, this man will be unconscious. He's too small, he's too frail. That's it. What more can I say?"
McGregor also gave an update on a potential return to the octagon. UFC president Dana White had earlier claimed that the 28-year-old would fight twice in 2017 before adding that Khabib Nurmagomedov was on his fighting wishlist.
McGregor's head coach, John Kavanagh also revealed that his client was planning a December return.
However, the lightweight champion has cast doubts on a return this year at least, attributing it to a misunderstanding of the Forbes highest-paid athletes list.
"What was really making me want to do it at the December 30th fight was the Forbes list," he told Ariel Helwani. "I thought it was the end of the year to the start of the year but it's actually June to June. So I thought I had more time to hit the number one spot this year so if I fought Floyd and then the December fight, that would have put me at the number one spot."
"But it's actually July to July so I was 24 this year, which is a great jump from 84 the year before," he stated before hesitantly adding, "I mean I said I'd fight. I'm going to fight. I always want to fight. I'm an active motherf****r, what else would I be doing?"
As for who McGregor wants to face when he returns to the UFC, he did not mention any names.
"It's chopping and changing," he explained. "Who's fighting? I see people who are just talking about defending belts and doing this and doing that."
"They fought way before me and haven't fought since. I'm just looking at people who are coming out and fighting. There's a few up there, let's see what happens."
You can watch the second press conference in Toronto which takes place on Wednesday (12 July) here.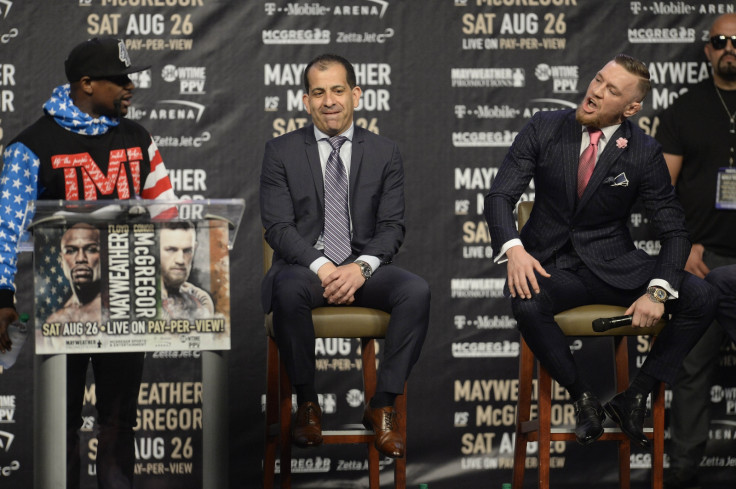 © Copyright IBTimes 2023. All rights reserved.