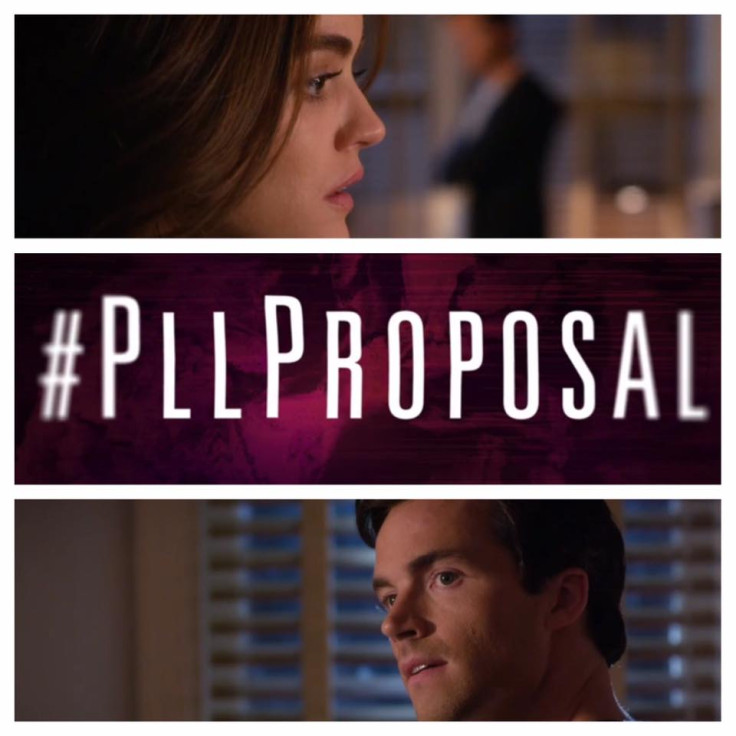 Pretty Little Liars season 7 episode 6 ended on a romantic note when Ezra proposed to Aria Montgomery with a ring, but the episode ended before she could answer him leaving fans disappointed. The next episode of the Freeform thriller will not air on 26 July as the show is on 15-day hiatus.
Episode 6 titled Wanted: Dead or Alive will air on 2 August and according to showcreator Marlene King, Ezra's PLL proposal will be the most appealing plot of the ongoing season. "I think there's just sort of that forbidden love that is just so appealing," she told ET Online. "Lucy [Hale] and Ian [Harding] have such great chemistry and I think they're just so much fun to watch. As they've grown in this show, and their characters have grown up, it's sort of just one of those relationships that's undeniable, I would say."
In case you missed the previous episodes, click here to watch them online on the network's official website.
Meanwhile, the romance between Aria and her former teacher will play a huge part in the plot, but that does not mean that the liars will forget their crime. Elliott Rollin's accidental death will keep haunting them although they managed to bury the secret in the jungle. Meanwhile, Jenna and Sara Harvey have joined hands to settle scores with the girls and this will not be good news for Aria, Emily, Hanna and Spencer.
According to the official synopsis, Rosewood PD will begin an investigation into Dr Rollins' sudden disappearance and Hanna's conscience will force her to confess the mistakes they did while tracking Alison, who returned home in the previous episode.
The former queen bee, under the guidance of her aunt Mary Drake, will learn that the liars are suspecting that she could be behind the murder of Charlotte. They even made her a scapegoat in a bid to save the kidnapped Hanna.
All the developments are leading towards a promising season ahead. It will be interesting to see how Aria will react to Ezra's proposal and whether Alison will understand the circumstances her friends went through while she was being tortured by Elliot in the mental asylum.