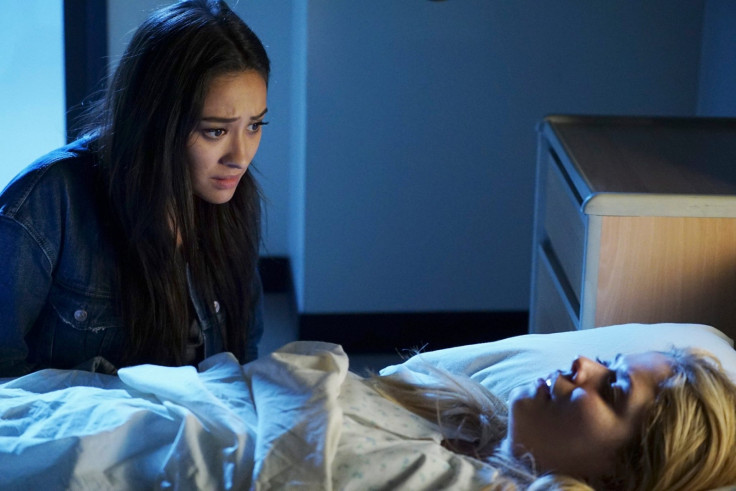 The girls, Aria, Spencer and Emily are back with Pretty Little Liars season 7 but the start is not happy as the lives of Hanna and Alison are hanging in the balance. And the girls are willing to do anything to save their friends. While Ali falls into the trap set by Mary Drake and Elliot Rollins, Hanna is kidnapped by Uber A who is also known as AD.
Pretty Little Liars season 7 episode 1 will air on 21 June on Freeform at 8pm EST. Click here to watch the show live on Freeform (only in the US).
While there is much speculation regarding Hanna's fate, show creator Marlene King warned fans of a darker episode than Dollhouse, the season 6 premiere episode. As of now, the lairs have been tasked to find CeCe Drake's killer within 24 hours.
"It's definitely darker than the Dollhouse. Everybody is really dedicated to finding her, but Caleb becomes incredibly single-focused. He feels the most responsible for AD abducting her," King told Hollywood Reporter while explaining the premiere.
Here is the official synopsis of the premiere episode titled Tick-Tock, Bitches:
After Hanna's shocking abduction by "Uber A," the PLLs and company desperately race against the clock to save one of their own. The only way to do this is by handing over evidence of Charlotte's real murderer to "Uber A." In order to do so, the girls must decide what blatant lines they are willing to cross that they have never breached before; and once they cross that line, there is no turning back.
She also teased that the current season of the Freeform thriller will increase the body count. "The stakes are so high this season and because of that, the body count is higher than usual. In some ways, it's kind of horrific, but in other ways it's just dark. It's dark and romantic at the same time," she added.
As shown in the promo, the liars have already committed one murder in a bid to save Hanna but that does not mean they will get any closer to AD. King has revealed that the latest tormentor will be unmasked by the finale.