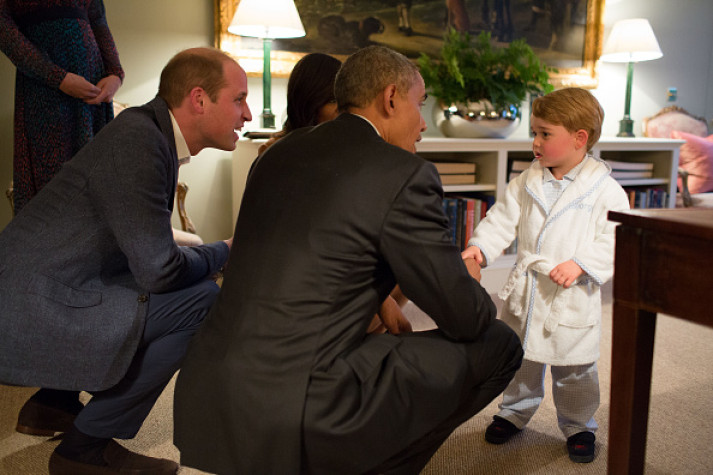 While Kate Middleton is hailed as a British fashion icon, it seems Prince George is not too far behind his mother in the sartorial stakes, as the young royal set a new trend for evening wear for stylish toddlers. The two-year-old was photographed yesterday (22 April) wearing his dressing gown and slippers, as he was allowed to stay up past his bedtime to meet Michelle and Barack Obama at Kensington Palace.
George looked every inch the trendsetter as he modelled the stylish sleepwear comprising blue gingham pyjamas, monogrammed dressing gown and slippers decorated with pictures of aeroplanes.
The adorable photos of the Prince dressed in his nightwear, as he greeted the US president, immediately sparked a surge in sales of the very royal jim-jams. The £27 My 1st Years robe sold out within minutes of the photos going public, as eager parents sought to emulate the outfit for their children, Mail Online reports.
A spokesman for the palace explained that George had stayed up for 15 minutes after his usual bedtime in order to personally thank the Obamas for a rocking horse they had given to him as a gift when he was born. "George stayed up for a few minutes when the President and the First Lady arrived but Charlotte was in bed," said the spokesperson.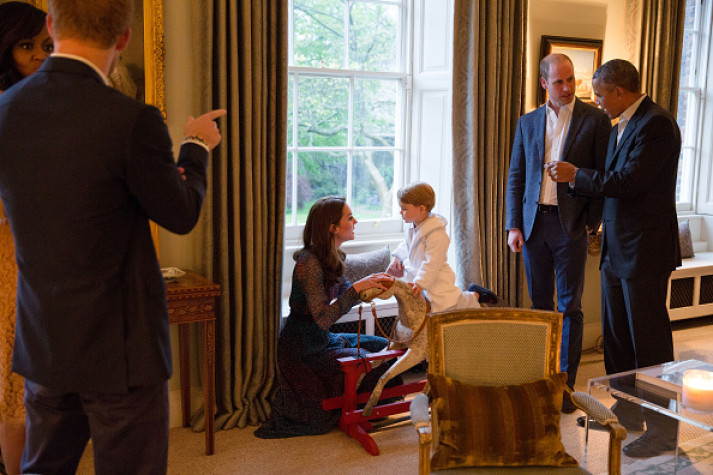 Recounting the meeting with the future heir to the throne, President Obama said Prince George was "adorable." Speaking at London's Lindley Hall, where he held a Q&A session he said: "I guess you all know why I came here. Nothing was going to stop me wishing happy birthday to Her Majesty and meeting George - who is adorable."
The Obamas were visiting Kensington Palace where they joined the Duke and Duchess of Cambridge and Prince Harry for a private dinner on Friday (22 April) as part of their four-day UK visit.