Prince Harry has visited sites damaged by Nepal's 2015 earthquakes during his five-day visit to the country. The British royal is also expected to meet survivors of the earthquakes, which killed nearly 9,000 people in April and May last year.
Prince Harry arrived in Nepal on 19 March evening and addressed guests at a Nepali government reception in Kathmanu. During his speech, the royal paid tribute to the victims of the earthquakes.
According to Kensington Palace, Prince Harry told the guests: "I know that I arrive in Nepal as you approach the first anniversary of the earthquakes that took so many lives. I pay my respects to those who perished and hope to do what I can to shine a spotlight on the resilience of the Nepali people."
On 20 March Prince Harry visited artisans and apprentices working to restore the royal palace at Patan Durbar Square. The Unesco World Heritage Site was greatly damaged during the 7.8 magnitude earthquake on 25 April 2015 and the second tremor on 12 May 2015.
Kensington Palace posted pictures of Prince Harry at the earthquake site, as well as a video of the Prince attempting to restore an ornate wooden carving. A spokesperson thanked the people of Nepal for making Prince Harry feel welcome in Kathmandu.
Prince Harry also met with President Bidya Devi Bhandari on 20 March morning. During talks with the country's first female president, Harry is believed to have told her that while the flight was a long one, it was "worth the hours to be in Nepal, finally".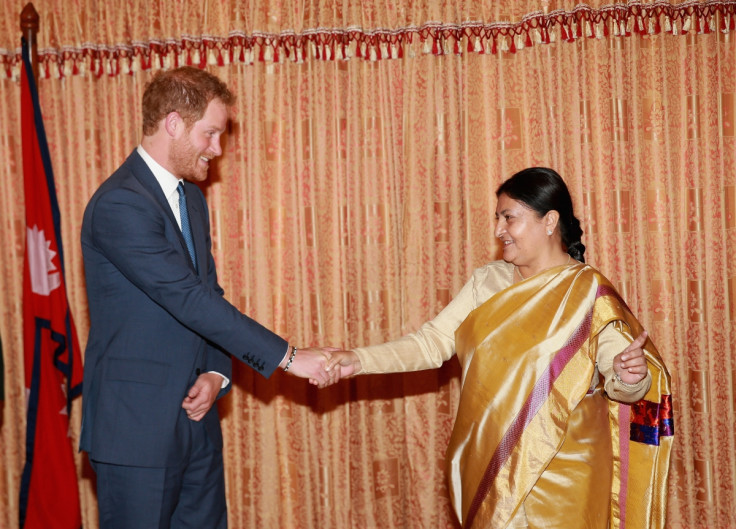 A Kensington Palace spokesperson said: "The prince very much enjoyed his meeting with the president. They had a wide-ranging and friendly conversation, covering earthquake recovery, the importance of tourism, conservation and climate change."
This is Prince Harry's first official visit to Nepal and is aimed at celebrating 200 years of joint relations between the Asian country and Britain. The royal, who served alongside the Gurkhas in Afghanistan, is expected to meet members of the brigade during his visit.