Prince Harry, Prince William honour Queen Elizabeth II a year after her death
Her Majesty died on Sept. 8, 2022 at Balmoral Castle at the age of 96.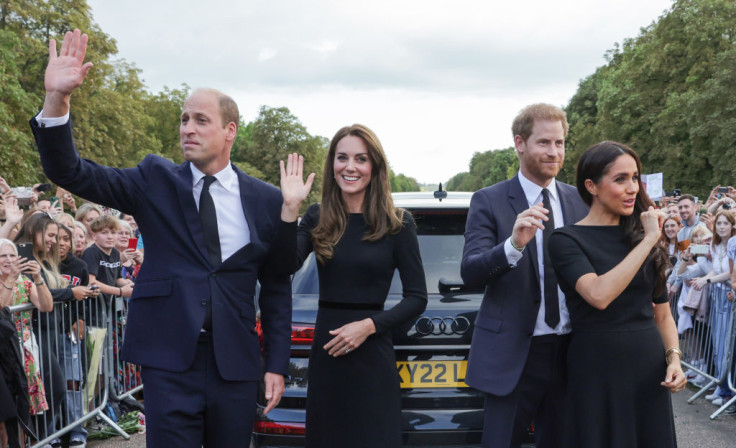 Prince William and Kate Middleton will celebrate the life of Queen Elizabeth on the first anniversary of her death with a visit to Pembrokeshire, on the southwestern tip of Wales on Sept. 8. Meanwhile, Prince Harry remembered his grandmother during his speech at the WellChild Awards in London on Thursday, Sept. 7.
The Prince and Princess of Wales will visit St Davids, Britain's smallest city, and attend a short service in St Davids Cathedral which will include a commemoration of Her Majesty's life. They will also meet with local community members in the cloisters next to the 12th-century cathedral.
St Davids Cathedral has a special link with Queen Elizabeth II as it is where she distributed the Royal Maundy during a Maundy Thursday service in 1982. It is also the only British cathedral where she held a place in the Quire among Chapter members, having sat there on four occasions during her visits to the city.
The trip to Wales is also a poignant reminder for Prince William and Kate Middleton. They were made Prince and Princess of Wales by King Charles III on Sept. 9, 2022, just a day after Her Majesty's death.
As for Prince Harry, he paid tribute to the late monarch after he took the stage to present the award for Inspirational Child to six-year-old Violet Seymour, who was born with a brain condition that put her under several surgeries. After he posed for a photo with the little girl, he delivered his five minute speech in which he celebrated "the tremendous strength and spirit of children and young people across the U.K. and the individuals who are transforming at home care for thousands".
The Duke of Sussex shared his "sincerest admiration and respect" for the carers and parents telling them they are "all proof that not all superheroes wear capes". In his speech, which Hello! magazine livestreamed on Thursday as official media partner for the event, he also recalled his grandmother's death last year.
He told the audience: "As you know, I was unable to attend the awards last year as my grandmother passed away. As you also probably know, she would have been the first person to insist that I still come to be with you all instead of going to her. And that's precisely why I know, exactly one year on, she is looking down on all of us tonight, happy we're together continuing to spotlight such an incredible community."
Prince Harry and Meghan Markle were scheduled to attend the WellChild Awards together in London last year on Sept. 8. Sadly, they had to cancel at the last minute upon learning of Queen Elizabeth II's failing health. The duke revealed in his memoir "Spare" that he only learned of his grandmother's passing from reading the news on his phone after his plane touched down on Scotland.
As for King Charles III, he paid tribute to his mother with a message posted on the royal family's official website. He wrote: "In marking the first anniversary of Her late Majesty's death and my Accession, we recall with great affection her long life, devoted service and all she meant to so many of us."
He added: "I am deeply grateful, too, for the love and support that has been shown to my wife and myself during this year as we do our utmost to be of service to you all."
King Charles III, who ascended the throne on Sept. 9 2022 and held his coronation on May 6, 2023, also included an unreleased photo of Queen Elizabeth II. The portrait was taken at Buckingham Palace on Oct. 16, 1968 and was part of the National Portrait Gallery's first photographic exhibition called "Beaton Portraits 1928-68". It was made public between November 1968 and March 1969.
Prince Harry and Meghan Markle joined the British royals during the funeral services for Queen Elizabeth II last year, which ended with her state funeral on Sept. 19.
© Copyright IBTimes 2023. All rights reserved.