Prince Harry says he's 'nervous' ahead of Invictus Games Germany
The 2023 Invictus Games will be held in Düsseldorf, Germany from Sept. 9 to 16.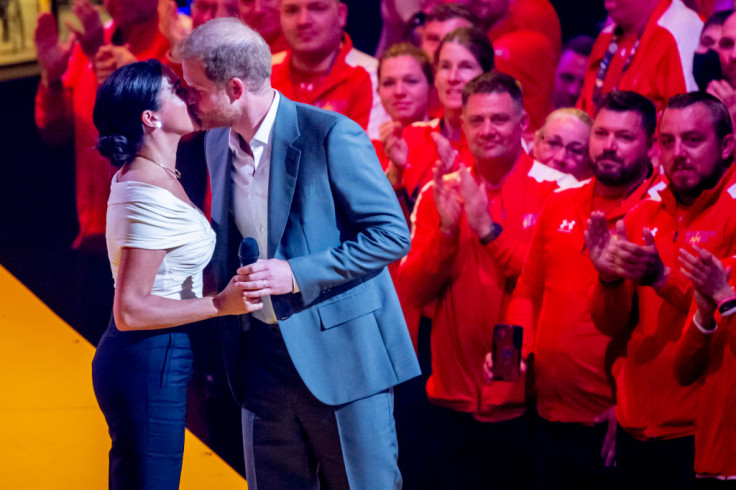 Prince Harry appeared in a new video to share a message for the athletes competing in this year's Invictus Games. In it, he shared his excitement and nervousness as he marks the one-month countdown to the games which will be held in Düsseldorf, Germany in September.
The video was originally shared on social media by Invictus Games Nigeria on Thursday before the Invictus Games Foundation reposted it. It shows the Duke of Sussex casually talking to the camera in front of a book shelf.
Hi, everybody. Well, well, well...we are exactly one month away from creating a "Home for Respect" in Düsseldorf 2023 for the next Invictus Games," he begins.
"I hope you're excited. I'm probably a little bit nervous — I'm both," he admits, adding "I can't wait to see all of you and have the whole community together once again — it's been too long."
Noting that some athletes will be competing in the Invictus Games for the first time while others might be returning for their second or third Games, Prince Harry says, "Either way, there will be an element of excitement as well as nervousness, and I'm sure some of you have been waiting for this moment for a very long time."
"You're all on different parts of your healing journey — we all are, we always will be — but I can assure you that this experience will hopefully be life changing, and you will come out of it a better person for sure," he continued.
There will be 21 nations participating in this year's Invictus Games, including for the first time Colombia, Nigeria, and Israel. Prince Harry says he "can't wait to have every continent represented" and that he is still working on bringing Antarctica on board.
Concluding his video message, the duke offers his gratitude for everyone's commitment and "determination in getting to this point." He says, "We're going to have fun. We're going to have a lot of fun and I can't wait to have all of you together and yeah, look forward to it. These last few weeks, these last few days will be exciting and nervous but we're ready to host you and it's going to be the best games ever, the best games yet."
Last September, Meghan Markle joined Prince Harry in Düsseldorf to mark the one-year countdown for the 2023 Invictus Games. They received a warm welcome as they walked the red carpet hand in hand and did a mini walkabout as they greeted the fans waiting outside the Düsseldorf City Hall.
In April last year, she also joined the duke at the 2022 Invictus Games in The Hague, Netherlands. She gave a speech at the opening ceremony and introduced her husband. The couple then shared a kiss on stage.
The 2022 games will be the subject of Prince Harry's Netflix documentary titled "Heart of Invictus." The streaming giant has yet to announce its release date though it is expected to arrive in the summer.
Meghan Markle will again join the Duke of Sussex at the 2023 Invictus Games in Düsseldorf which will take place from Sept. 9 to 16. But it is unclear how long they will be staying or if they will bring their children, Prince Archie, 4, and Princess Lilibet, 2, along for the trip.
Düsseldorf was first announced as a future host city for the Invictus Games in 2020 with it initially set for 2022. But the COVID-19 pandemic delayed the 2020 events in The Hague for 2022, so preparations for Düsseldorf were also postponed.
Prince Harry launched the Invictus Games in 2014 to benefit the injured, sick and wounded service personnel and veterans. He served ten years in the British army and served two tours to Afghanistan.
© Copyright IBTimes 2023. All rights reserved.