Unsuspecting shoppers at a Waitrose in West London were surprised to find themselves standing in a queue at a self-service till behind Prince Harry. The fourth in line to the throne had apparently popped into the store to buy some eggs.
With a baseball cap pulled down over his eyes, the Prince tried to go unnoticed in the supermarket which is around the corner from the 31-year-old's flat at Kensington Palace.
Roofer Lewis St George-McKenzie, 45, said he had not expected to see a member of the royal family in his local supermarket. "You don't expect to see a prince doing his shop at nine in the morning," he told The Sun. "He had a couple of bags of shopping. He looked like he'd had a rough night. I have seen a few celebs about but never royalty."
It's not the first time Prince Harry has been spotted mingling with members of the public at the Kensington Waitrose. He has also been known to frequent high street eatery Nando's. The down-to-earth royal was spotted at a restaurant in Fulham, following England's World Cup qualification against Poland in October 2013.
The Prince has recently flown back from Nepal, where he was on an official tour on behalf of the British government to promote the bicentenary of Anglo-Nepalese relations and highlight the recovery of earthquake hit region. 9000 people were killed in the devastating earthquake last year.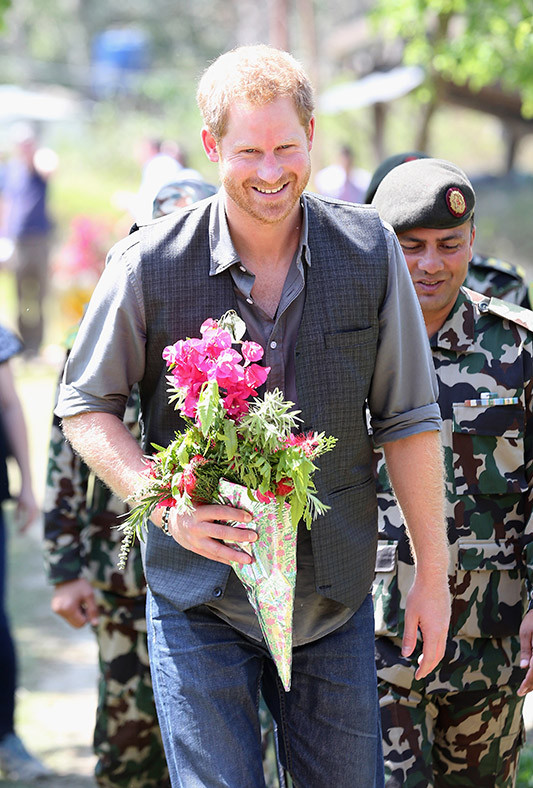 Extending his stay by six days Prince Harry helped to rebuild an earthquake damaged school in central Nepal. In his final speech to the Nepalese people he said that he had been touched by the warm welcome he had received. "'The people I have met and the beauty of this country make it very hard to leave. Thankfully however, I'm not leaving just yet. I'm so grateful to have this opportunity at the end of my official tour to do my small bit to help this beautiful country.
"At the start of this visit I said that I hoped to shine a spotlight on the resilience and resolve of the people of Nepal," he explained. "Nearly a year on from the earthquakes that took so many lives, I wanted to pay my respects; but also I wanted to show that this country was open for business and has so much to offer. The people I have met on this journey have made this goal so easy."