Prince Harry is following in his late mother's footsteps by hoping to keep her promise for a world free from landmines.
The royal delivered the keynote address at the reception for Landmine Free World 2025 on Tuesday (4 April) as he committed to freeing the world of unexploded landmines.
His involvement in the project comes 20 years after his mother, Princess Diana, met two victims of landmines and promised to eradicate them from the world.
"As I mentioned earlier, in August 1997, my mother traveled to Bosnia with Ken Rutherford," he said, according to E! News.
"When she was there she met two young boys, one Muslim, one Serbian, who had both lost legs to landmines. She shared their stories with the world, and helped campaigners, many of whom are in this room, to change history."
Prince Harry continued: "Those two young boys, Malic and Zarko, are now grown men and are with us today. Twenty years on, they both still struggle with their physical and emotional injuries and with the high costs of replacing their prosthetics. When my mother said goodby to Zarko that August, just weeks before her untimely death, she told him he would not be forgotten.
"Please help me keep her word to Zarko and Malic, and other people like them throughout the world, who still need us to finish the job and rid the planet of landmines," he pleaded.
UK government invests in project
The UK government announced it would invest £100m ($124m) in the plan to eliminate landmines from the world by 2025, the BBC reported.
British International Development Secretary Priti Patel, said the three-year aid package would address the "global scourge" of unexploded landmines. Patel said the investment would help 80,000 people.
Prince Harry commended the government's investment as a "bold commitment," but said "there is much more that needs to be done". The royal said it was "shocking" that an estimated 60 million people still lived under the threat of unexploded landmines.
"Somewhere in the world right now a parent is making the grimmest of choices – to risk cultivating in landmine-contaminated land or letting their children starve," he said. "Such tragedies undermine the promises made by the world 20 years ago."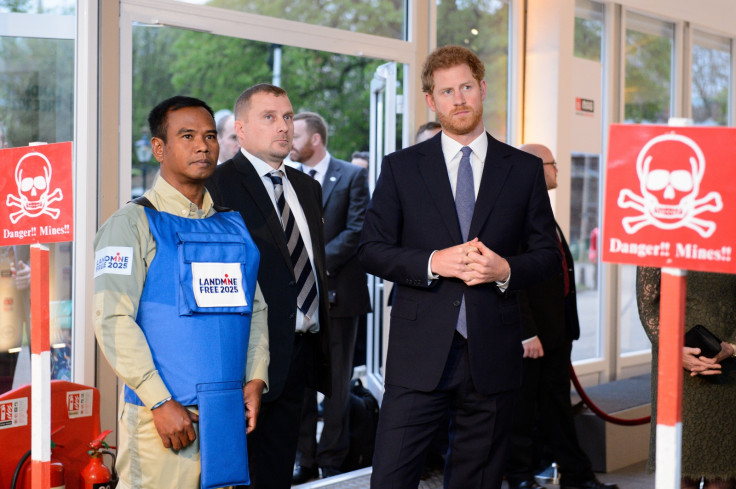 The prince estimated it would take an additional £100m each year until 2025 to eliminate landmines from the world's most affected countries, including Cambodia, Afghanistan and Sri Lanka.
Despite the additional work needed, Harry commended the "bravery and dedication" of teams from MAG, The Halo Trust, Norwegian People's Aid, Danish Demining Group and others who helped to declare 27 countries mine-free, E! News reported.
Harry, a patron of Halo Trust since 2013, said he is confident to rid the world of landmines by 2025. "Collectively we have the knowledge, skill, and resources to achieve it, so let's make future generations proud and finish what we started," he said.