Writing your love story under the glare of the world's media when you are one of the world's most talked-about couples is no easy feat. But should Meghan Markle and Prince Harry ever want to get off the grid and sneak off for a romantic getaway, Lukwesa Morin is the perfect decoy.
The 25-year-old part-time model from Washington DC caught the attention of renowned celebrity artist Alison Jackson after winning a Meghan Markle lookalike competition organised by dating site beautifulpeople.com. She is now offering her unique services to the royal couple.
"If they needed me to fly out for an event and they wanted me to be in her place I definitely would be open to that," Morin told IBTimes UK.
Despite the 11-year-age gap, when it comes to job titles, life as Markle's double doesn't sound too bad. "I'm pretty flexible. I'm pretty open to whatever," the post-graduate student said.
Harry, who is fifth in line to the throne, will say "I do" to the LA-born actress, best known for her role in the US TV legal drama Suits, on 19 May. The ceremony will be held at St George's Chapel at Windsor Castle.
"I would love to be a guest at the wedding. I honestly wish them nothing but the best," Morin said.
"We are living in an increasingly globalised society so I support anything that deals with you having to engage with another person's culture or identity or kind of perspective of life. I love diversity in general so I would definitely love to be a guest at that wedding."
As a mixed-race (her father is French and her mother is Zambian) American woman, Morin can relate to the struggles with identity that Markle has spoken so frankly about. In a rousing essay for her former lifestyle site, The Tig, she opened up about her experience with her black mother Doria Radlan and the "countless black jokes".
Morin said of growing up: "I felt like I was too white for the black crowd and too black for the white crowd. So you are kind of in the middle.
"I was always fearful. What if I have too many white friends? - then the black people are going to judge me.
She said of the royal wedding couple: "Being a product of a mixed race, I see it and I think it's beautiful because you're breaking so many stigmas in society about that. Anything that's blended."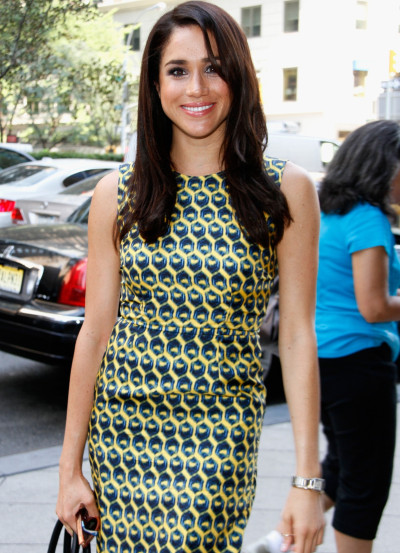 Morin believes that critical comments about Harry's choice of a "melanated" spouse is further confirmation that society remains skewed and attitudes towards integration in the monarchy still need to change.
"I can't understand how her being 'black' should be any different. There are so many more important factors to focus on, like whether or not they're a good fit, whether or not they want children, etc. The racial focus is an unnecessary distraction and it's shameful if that is the focus, especially in this day and age."
Although she admits flame-haired Harry is not her type, her mother is convinced that had she caught his eye, she would be the one preparing to walk down the aisle. She said: "My own mom has said: 'Oh my gosh, if only Prince Harry met you first!'"
With thousands of potential doppelgangers signing up to agencies hoping to cash in on their resemblance to the former Suits star, Morin was taken aback when she was asked to audition for the role of Markle in the Lifetime movie, Harry & Meghan: The Royal Love Story.
"I was actually asked to send a self-tape audition by the casting crew for the role of Meghan Markle," she revealed. "I grew up watching Lifetime so when I got that opportunity I was like 'oh this is up my alley. I would love to act'."
The role eventually went to Parisa Fitz-Henley, who is best known for her role in Marvel's Jessica Jones on Netflix. Murray Fraser will play Harry.