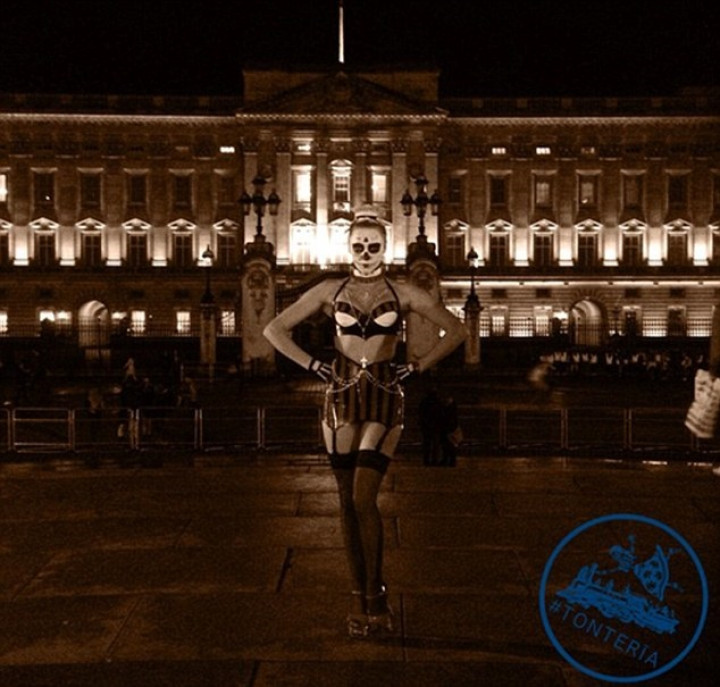 A close friend of Prince William and Prince Harry may face legal action after filming a promotional video outside Buckingham Palace.
Guy Pelly's video for his London bar Tonteria, shows semi-naked dancers twerking against the backdrop of the Palace and actors dressed as zombies, near the Victoria Memorial outside the Palace gates.
While it is illegal to film outside Buckingham Palace without permission, the joke might also be considered inappropriate considering Pelly's close association with the royals.
In the video posted on YouTube, the dancers are seen cavorting in front of other famous London landmarks including the Houses of Parliament, the London Eye and Harrods.
The zombie theme in the video replicates the bar, where topless men wearing giant skulls patrol the club with sparklers.
The club is frequented by Prince Harry, who is reportedly ushered in through a side-entrance. A favourite haunt among the super rich, a bottle of champagne costs £28,000 while guests who spend £1,000 behind the bar, are served drinks by scantily-clad dancers.
Prince William hosted Pelly's stag party in May before he married American heiress Lizzy Wilson.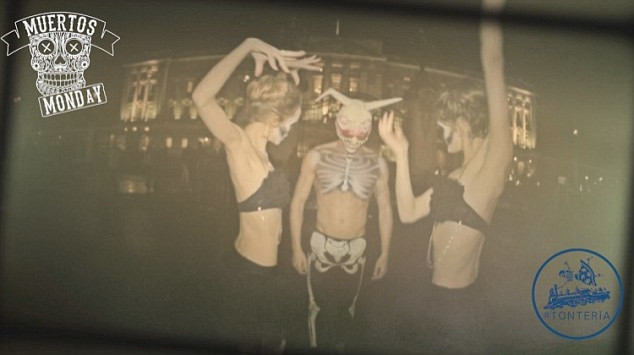 A regular at the club in Sloane Square who took part in the film said: "We broke a lot of rules and we are expecting the video to be banned. Guy obviously knows people will assume he's giving a cheeky nod to the fact Harry goes to his club."
The filming location outside Buckingham Palace is governed by Royal Parks control. According to the Daily Mail, a Royal Parks spokesman confirmed that no permission had been sought for filming, adding: 'A breach of Royal Parks regulations is a criminal offence. Under the Royal Parks and Other Open Spaces Regulations 1997 it is an offence to take photographs of still or moving subjects in connection with a business or trade without written permission. Enforcement is a matter for the police."
Aside from the legal ramifications, 32-year-old Pelly may come under fire for trading in on his royal friendship.
The 32-year-old entrepreneur had previously made an x-rated video to promote the club, which featured two topless women stripping off to reveal studded leather bondage gear, and taking part in a threesome with a man.
The wealthy clubowner, who is Godfather to Prince George, has already been accused of introducing Prince Harry to drugs. His hellraising behaviour in the past has included stripping off while drunk during a polo match.
In 2012 he received an eight-week driving ban for doing 129mph. He was exposed by a tabloid newspaper in 2006 smoking cannabis at a party at which Prince William was present.
He was also with Prince Harry when he controversially hired a Nazi uniform to wear to a private birthday party in 2005. Pelly was dressed as the Queen.