He's the one member of the Royal Family who is completely unpredictable when it comes to his moods; when he's on a high, he's the best person to be around, and when he's not in a good frame of mind, journalists and interviewers should be well aware. And probably skedaddle.
Tonight (12 December), This Morning presenter Phillip Schofield will take a break from his usual small screen duties and spend some time with Prince Philip, the Duke of Edinburgh. No biggie.
The 54-year-old host gets to know the Queen's husband a great deal while making the documentary, all in aid of Prince Philip's youth programme as it marks its 60<sup>th anniversary. He meets the Duke at celebrity galas, special receptions and intimate events.
Schofield speaks with David Walliams, Judi Dench and Joanna Lumley to help understand the royal and how he embodies the award.
He also bags exclusive interviews with his youngest son Prince Edward and his wife Sophie, Countess of Wessex, who offers a unique glimpse of life inside the Royal Family, and the effort Philip puts into the Duke of Edinburgh scheme.
The one-hour special programme, which marks the Diamond Jubilee of the DofE award, will show 95-year-old Philip's often cantankerous and rather humorous side, which is set to keep viewers more than entertained.
Globally renowned for his infamous one-liners, the prince doesn't hold back in his interviews with Schofield.
When the presenter revealed he would participate in a wing walk to raise funds for the scheme, Philip sarcastically remarks: "Who is trying to get rid of you?"
He then adds: "Are you going to stand there on the wing and say 'hello folks'? I wouldn't open your mouth if I were you."
In another chat, where the Duke was asked a rather obvious question, he simply replies: "What am I supposed to say?"
Schofield isn't the only person to feel the Duke's wrath, as comedian Walliams also comments that he was called a "nut" by the royal.
He explained first meeting the Queen and Prince Philip, stating: "It was the year that I swam the Channel and he asked, 'Is this the nut who swam the Channel?'
"And he went, to my mum, 'Any more nuts in your family?' To which my mum said, 'No, just the one Prince Philip,' as he walked out the door."
Jokes and taunts aside, Schofield doesn't hide how impressed he is with Philip's mental assertiveness for his age. He says in the programme: "He is as sharp as a pin. There was no question, more so than any interview that I've ever done in my life, I was just thinking: one false move, one wrong word and he is going to be on me like a terrier."
Actress Joanna Lumley also makes an appearance in the documentary. She says: "I think he is an extraordinary character. He rides, sails, drives horses, fishes and swims and does stuff. He really could have been James Bond, actually.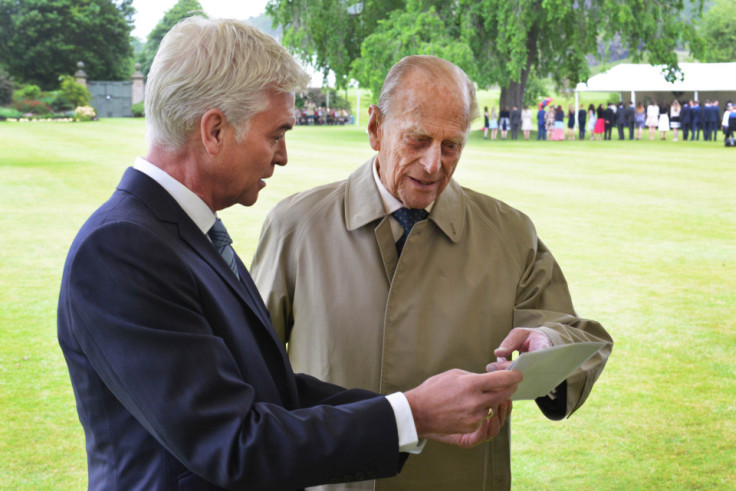 "And he was a naval commander as well, like Commander Bond. He is good fun to be around but he is quite shy. I think sometimes at some huge event I have seen him say, 'Oh God I have to do that'. But then he puts his head up, chin out and goes and does it."
Since it was founded in 1956, the Duke of Edinburgh Award has since expanded to 144 nations, and the awards recognise adolescents and young adults for completing a series of self-improvement exercises.
When Phillip Met Prince Philip airs tonight at 9pm on ITV.