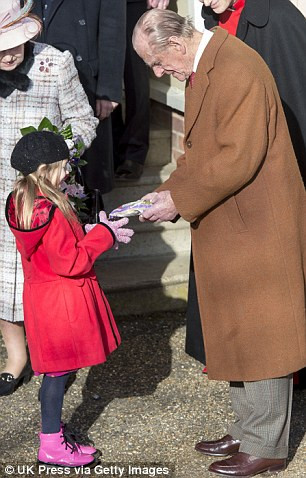 While the Queen is often deluged with flowers on her customary walkabouts, it's not often that anyone stops to think of Prince Phillip.
So it was a welcome treat for the Duke of Edinburgh when a young well wisher presented him with a bag of sweets.
The royal were at a church in West Newton, Norfolk, in the heart of the Sandringham, where they had just enjoyed a performance of a Biblical play - Whither Thou Go'est - by children at the church's Sunday School.
As they left the church they were met with children brandishing posies for the monarch.
The Queen looked on smiling, as a young girl stepped up to the Duke and presented him with an 89p bag of Morrisons own brand chocolate, and Prince Phillip was clearly delighted.
The sweets were later spotted on the Prince's lap as he was driven away.
The bouquets are placed in a separate car by one of the Queen's security team.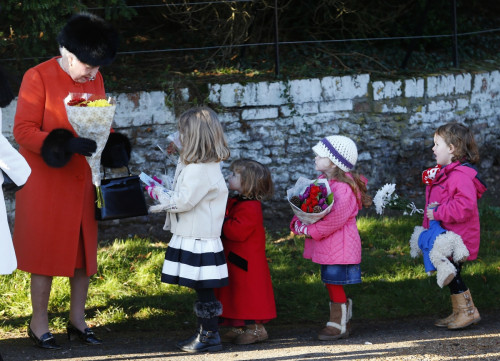 The monarch often accepts flowers after morning service when she is staying at Sandringham, however heavy rains have put paid to the tradition recently.
The Queen had refused to partake in the customary practice on the two Sundays over Christmas since she had collected so many bunches of flowers on Christmas Day she was late for the family lunch.