Nigeria's former First Lady Patience Jonathan is suing the country's anti-corruption agency for $200m (£160m) for freezing some of her bank accounts. The Economic and Financial Crimes Commission (EFCC) claimed the decision was made as part of an investigation on alleged money-laundering charges pressed against her.
Jonathan, wife of former president Goodluck Jonathan, has denied the allegations and called on the EFCC to unfreeze her accounts and pay compensation for infringing her rights.
The former first lady filed court papers against the EFCC at the Federal High Court in Lagos on 27 October.
More than 100 women had gathered outside the court to chant slogans in solidarity with Jonathan, the Vanguard newspaper reported. A hearing on the case against the EFCC has been set for 7 December.
Goodluck Jonathan left office in 2015 after being defeated by President Muhammadu Buhari in the presidential election.
Corruption in Nigeria
During his campaign, Buhari vowed to tackle corruption and recover funds he alleged had been stolen during previous administrations.
Several Nigerian officials have been accused of corruption and money laundering after Buhari ordered an investigation into arms procurement, amid suspicions that millions of dollars had been embezzled by corrupt officials.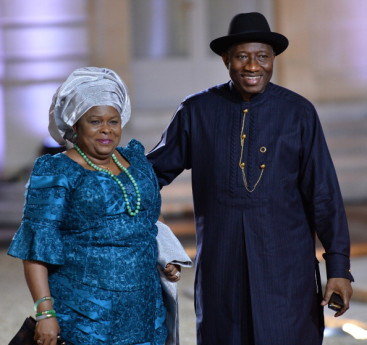 The probe also led to the discovery that $2.1bn, earmarked to prosecute the fight against Boko Haram terrorists in the country's north-east, had gone missing.
Buhari has sought the help of several countries, including the UK, the US and the United Arab Emirates (UAE), to locate and repatriate embezzled Nigerian funds, stashed away outside the African nation.
In September, the UK and Nigeria signed an agreement on returning stolen assets. Both parties committed to ensuring "that returned assets are not at risk of being misappropriated again."
---
Nigeria up close: Check out our Flipboard magazine
---