Pro-Biafrans stage silent protest in Whitechapel hoping to engage President Buhari
Members of the pro-Biafran movement in London have staged a silent protest in front of the Royal London Hospital in Whitechapel, where Nigerian President Muhammadu Buhari is allegedly undertaking a treatment.
According to official statements, the leader is in London on vacation, and to cure an ear infection. IBTimes UK was unable to verify whether Buhari was attending the hospital for treatment.
Just hours after the demonstration, Nigeria's Vice-President Yemi Osinbajo was quoted by AFP in Abuja saying the president "was in perfect health" and would return to the West African country on Sunday 19 June, instead of 16 June, as previously announced.
"I spoke with him yesterday evening and I think it is just the best that he takes the weekend off... [he is] in perfect health and ready to resume work on Monday morning," Osinbajo said.
Pro-Biafrans call for the independence of Biafran territories forcibily annexed to Nigeria during British colonisation. The movement has gained renewed momentum following the arrest of Nnamdi Kanu, one of the leaders of the group, in October 2015. Kanu, Ipob leader and director of UK-based Radio Biafra, is standing trial on six counts of treasonable felony charges.
The Nigerian government has always maintained that the country's unity was a priority for the country and that, although peaceful pro-Biafran protests were welcome, a demand for the breakaway of the Biafran territories went against the constitution.
Nigeria's security forces have often been accused of violent acts against "unarmed" and "peaceful" pro-Biafran protesters – these are claims that the authorities strongly deny. In an exclusive report by IBTimes UK, published in February, Amnesty International confirmed that Nigerian security forces had used excessive force against pro-Biafran protesters on some occasions.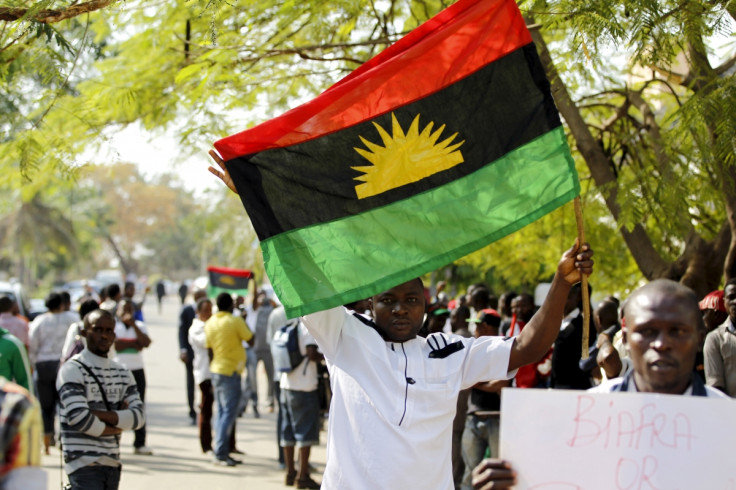 ---
Nigeria up close: Check out our Flipboard magazine
---
© Copyright IBTimes 2023. All rights reserved.