The director of a controversial group calling for assisted dying to become legal has warned its UK members that they risk arrest, due to an apparent clampdown by police on importing suicide drugs.
Philip Nitschke, who runs the pro-euthanasia group Exit International, told IBTimes UK those attempting to end their lives with illegal killer drugs purchased from abroad were now being targeted by Interpol and police with "renewed enthusiasm".
He accused law enforcement agencies of making the lives of those who wanted to die "a misery" and urged members to hide any euthanasia kits already purchased.
His warning comes in the same week that retired academic Prof Avril Henry, 82, died in an apparent suicide, just days after police kicked down her door and raided her home in Devon. Henry, a professor of English Medieval Culture at the University of Exeter until 2000, had purchased end-of-life drugs from Mexico after her health deteriorated.
A tip-off from Interpol officers in Manchester, who tracked the parcel to Henry's address, saw police arrive at her home in Exeter on Friday (15 April), where they forced entry and were said to have demanded she hand the killer drugs over. Prof Henry, who was also a member of Exit International, appeared to have conned officers into thinking she had surrendered her entire supply, however, and was found dead on Wednesday 20 April.
A suicide note saw the pensioner speak of having "laboriously planned [her death] over more than 12 months". It added: "I am alone. The decision is wholly mine. It has the sympathetic, loving support of all my family, friends, members of the village."
Nitschke, who visited Prof Henry shortly after her ordeal with the police, told IBTimes UK that another Exit International member had this week been arrested and charged at her home in Oxford. The woman, also in her 80s, had reportedly returned from holiday on Thursday (21 April) to find police cars and an ambulance waiting outside her door. Officers were said to be acting on a similar tip-off from Interpol, also suggesting she had imported illegal suicide drugs from abroad.
Nitschke said: "We have been surprised about the tracking of parcels by Interpol. Something seems to be driving this renewed enthusiasm in stopping people going down this path.
"In the case of Prof Henry, knocking down the door and bringing in a psychiatrist at midnight is unheard of for cases of euthanasia. It's harassment and quite bizarre.
"Her death was a clear case of 'rational suicide' and her decision to die at her own time and in her own place should have been respected.
"As it is the authorities did everything they could to make her last days on this earth a misery. Police need to realise that in the UK, suicide is not a crime, and mental health authorities need to recognise that not everyone who seeks to end their life is in need of psychiatric intervention.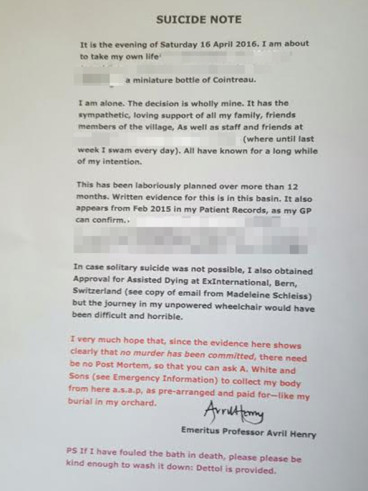 "We are telling our members to be extremely careful when buying drugs from abroad. Those who already have the drugs might want to keep them hidden."
Exit International, a non-profit Australian company founded in 1997 by Nitschke, which has about 1,000 UK members, provides information on suicide and even sells kits to test the purity of drugs purchased abroad. It advocates laws allowing a person to take their own life in the manner and time of their choosing.
Critics have raised concerns the group may encourage healthy elderly and vulnerable individuals to kill themselves in the belief they have become a burden to family members.
Nitschke pointed to the experiences Prof Henry had endured, due to a series of illnesses, which had left her in pain and with seriously restricted mobility. Conditions included chronic ear infections, cardiac and renal problems, swelling feet, incontinence and urinary infections.
Her suicide note, which she had consented to being published, described UK laws on euthanasia and assisted dying as illogical and cruel. She spoke of her case having been accepted by an assisted dying clinic in Switzerland, but said her journey there would have been "difficult and horrible" due to mobility problems.
Nitschke said cases of people in Britain ending their lives with killer drugs, bought abroad, were now "relatively common", adding: "It often doesn't come to light, especially if it's not detected because people assume they died of a long-term illness.
"Some people purchase them with a 'just in case' attitude. They don't want to put a family member at risk of being convicted of assisting in their death so buy them for possible use in the future."
Devon and Cornwall Police said Dr Henry's death was not being treated as suspicious. A spokesman said: "Devon and Cornwall Police attended an address in Brampford Speke on the 15th April following concerns for the welfare of a person within the property, and therefore entrance was forced.
"No criminal issues were highlighted during this incident and the matter was left in the hands of medical and mental health professionals. Police were called to the same address in Brampford Speke on the 20th April following reports of a body of a woman in her 80s being discovered.
"This death isn't currently being treated as suspicious and a file is being prepared for the coroner."