Project Cars interview: We converted Top Gear Stig from video game hater to racing sim lover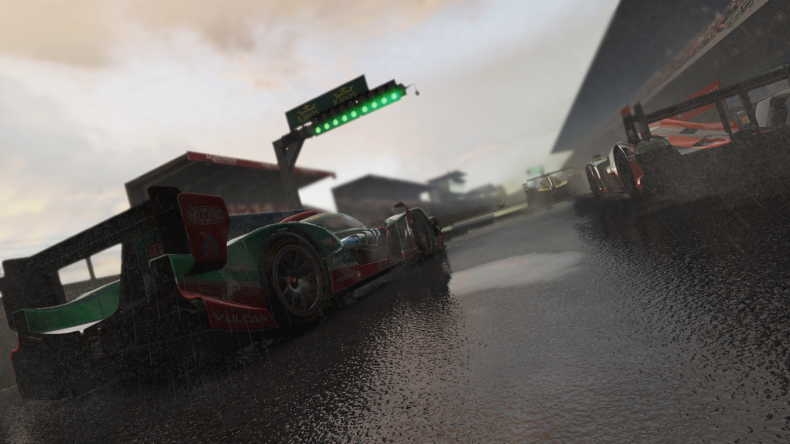 Project Cars is preparing to give racing simulator veterans Forza and Gran Turismo a run for their money when it launches later this year. Creative director Andy Tudor speaks to IBTimes UK about how the game's realism made a racing sim fan out of video game hater Ben Collins, former Top Gear Stig.
Just a day after the game was delayed for the second time in as many months - a mid-May release is the latest line from developers Slightly Mad Studios - Tudor says, no matter how frustrating to fans, delays are in everyone's best interest.
Delayed for "final polishing", Tudor says he would rather postpone the game, because "then I'd be happier, [the fans] would be happier, the review scores would be happier, everyone would be happier. It's just in everyone's best interest."
Despite the game's numerous setbacks, Tudor is confident that his game can disrupt the racing simulator market, removing the PlayStation and Xbox stranglehold by Gran Turismo and Forza respectively by producing a game built by racing drivers, for racing drivers.
Breaking down the fourth wall
The first to admit this sounds like a tired marketing phrase, Tudor is keen to explain how much Ben Collins, Le Mans racing driver and former Top Gear Stig, has been involved in the production of Project Cars. "Let's break down the fourth wall, [involving a racing driver this closely with a game] hasn't been done before.
"Those guys in other games would have come on at the last stage as some of the marketing push. Like 'oh look we've got a Formula One driver, he loves the game'. But then we've got people like Ben Collins in from day one, because he notoriously hates these kind of games. We said 'right, you're exactly the kind of people we want, because if we can convince you that this is good, and you can help us by saying when it's sh*t, then we will fix it'."
A year ago, Tudor says development of Project Cars "got to the stage where [Collins] said 'you know what, this is wicked, I'm having amazing fun with this and I'm actually enjoying it'. We weren't paying him to say that. Other games may say they've [had drivers involved] but whatever, not to our extent."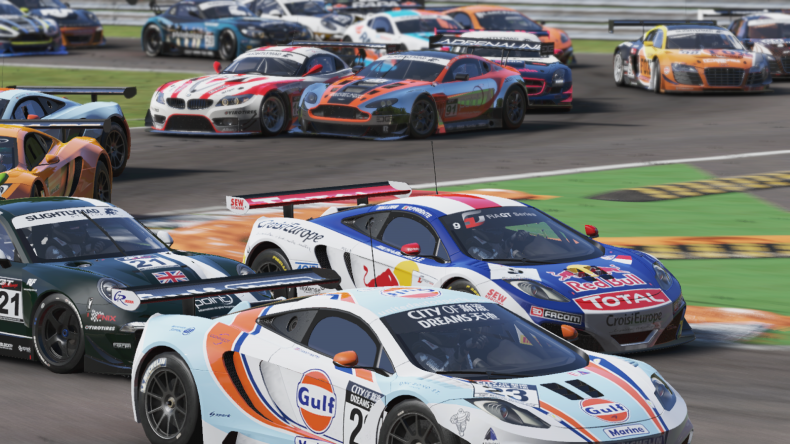 Humbling to be likened to Gran Turismo
Tudor admits the idea of going up against Forza and Gran Turismo is daunting, but says the involvement of professional racers and 80,000 beta-testing fans during the game's three-year development takes the edge off. "Even to be considered in the same sentence [as Gran Turismo and Forza] is humbling enough.
"If we'd made the game in the dark for three years and not had any feedback other than going to GamesCom and E3 and getting tiny bits of feedback, we'd literally be coming up to release now going 'oh my God I hope people like this game...but having 80,000 people play it for three years has given us a confidence boost...it's a different way of making a game and that's really helped us."
With dynamic weather and time, a huge list of licensed cars and tracks, Oculus Rift support, the ability to completely turn off the in-race user interface, and physics so realistic that the game is genuinely difficult for even experienced racing fans, Project Cars is undoubtedly a simulation. But there's a balance to be struck between difficulty and fun.
Driving like a god, like a superhero
Tudor says: "The word 'simulation' might make you think 'oh god it's going to be bloody difficult,' but really it just means it's simulating things realistically. So yes it's challenging and yes it's got really advanced physics, yes you will slip on grass and yes you have to brake for corners...[but] we know games are meant to be opened on Christmas Day by a nephew or niece and they're supposed to feel like a god, like a superhero when they play it."
To help, Project Cars asks players to select their racing game experience - from novice to veteran - before starting their first race, so the driver aids and physics can be set accordingly.
But realism and drama are still front and centre. Cars and tracks are tweaked corner by corner with feedback from Collins and other professional drivers based on their experiences at each circuit.
The Oculus Rift virtual reality headset is compatible, letting gamers look around inside every car and better judge braking distances; Tudor saying Rift users post quicker lap times. Between 30 and 40 steering wheels are compatible with Project Cars, and Tudor even says he has been approached with plans to create a version of the game as a training tool for professional drivers who can't afford real-world track time between races.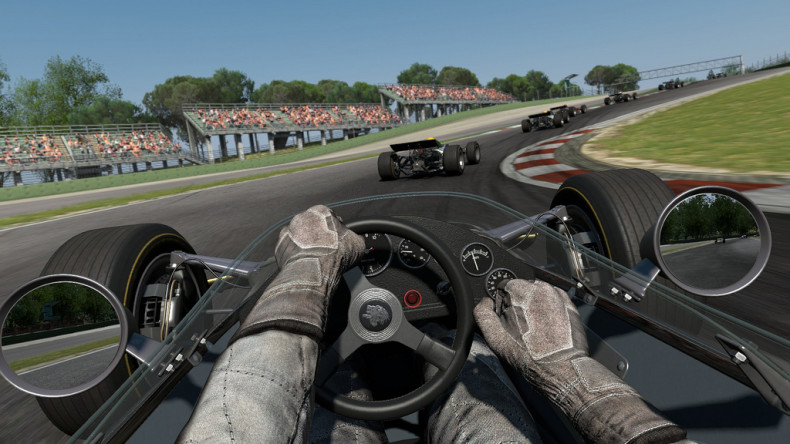 AI like a funeral procession
Finally, with regard to a regular sticking point in Gran Turismo, Tudor talks to IBTimes UK about Project Cars' artificial intelligence. "When it comes to the AI of the drivers, we've noticed in games like Gran Turismo it seems to be somewhat like a funeral procession; but then on Forza with the avatar system you get drivers who are a bit erratic.
"We've tried to do something in the middle where drivers defend their line, but equally they will make mistakes, spin out, or push too hard and make contact...we want players to feel like they're in an online game with people of a similar skill level to them. But then there's no rewind like in Forza because when you crash we want you to not want to crash ever again, as opposed to saying 'oh rewind, try again'."
Project Cars will go on sale for Xbox One and PlayStation 4 in mid-May.