With a dry mouth, damp palms and eyes begging me to blink, I realise I'm tense, sat awkwardly and am probably concentrating harder on Project Cars than any game I have ever played before.
Here is a racing game which doesn't try to cater for the masses, like Forza Horizon and the Need for Speed series; this is a game which makes Gran Turismo and Forza feel a bit artificial. A bit soft. Never before have I played a game which demands so much of the player and rewards with complete submersion in the gameplay.
I had two hours with the PlayStation 4 version and, being a car nut, I immediately turned every driving option to 'simulation', switched off all in-game graphic overlays such as speed, race position and lap times, and disabled the traction and stability controls.
I then picked a 900-horsepower McLaren P1 and headed to Le Mans. At night. During a thunderstorm.
Challenging is probably an understatement. The car squirmed this way and that, forcing me to change up early with each gear and flat-out preventing me from using full throttle. It was difficult, but in an understandable and communicative way.
Eyes on stalks, I settled onto a straight and began to notice much more than the lack of grip; the game's 'helmet view' (imported from the Need for Speed: Shift engine) turns left and right to follow the apex of each corner, and your vision focuses more sharply on the road ahead as speed increases, causing the steering wheel, dashboard and the foam padding of your helmet to blur into your periphery vision.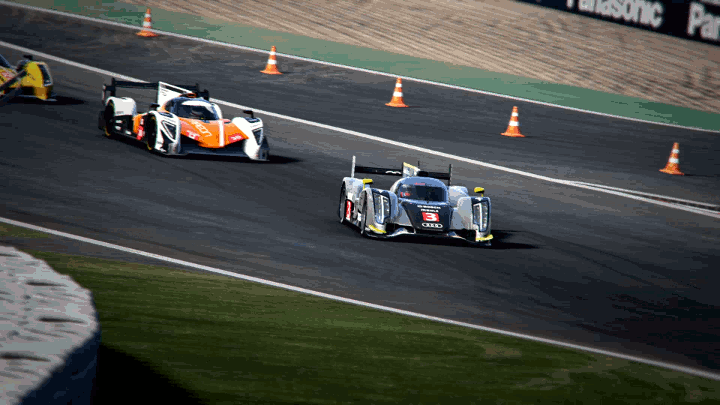 Puts Gran Turismo to shame
The sound of rain lashing down onto the roof, the lights of following cars illuminating parts of the cockpit as they look for an opportunity to pass; dirt building up on the windscreen. The sounds of the engine, gearbox and turbocharger putting those of Gran Turismo 6 to utter shame - and all this is before we look at the track itself, scattered with puddles and 'marbles' of worn rubber cast aside by the tyres of other cars.
Next, I took a 250cc shifter kart to a bone-dry Brand Hatch Indy circuit. Despite having around a tenth of the power of the McLaren, the sense of speed was still massive from the moment I set off against a grid of 19 others. Cold tyres realistically made the first few corners something of a shambles, and even after they'd warmed I noticed how running wide onto the marbles (now much more obvious on a dry day) would cause understeer for the next few corners.
Where games like Forza and Gran Turismo let you off with sloppy driving and being aggressive with the controls, Project Cars punishes you. Go off line, hit the marbles and you'll be off into an unforgiving gravel trap; but calm down, be gentle and progressive with your steering, braking and accelerating, and Project Cars rewards you. It's an incredibly steep learning curve - especially when the career mode doesn't force you to build up gradually to the faster cars - but one which keen motorsport fans will appreciate.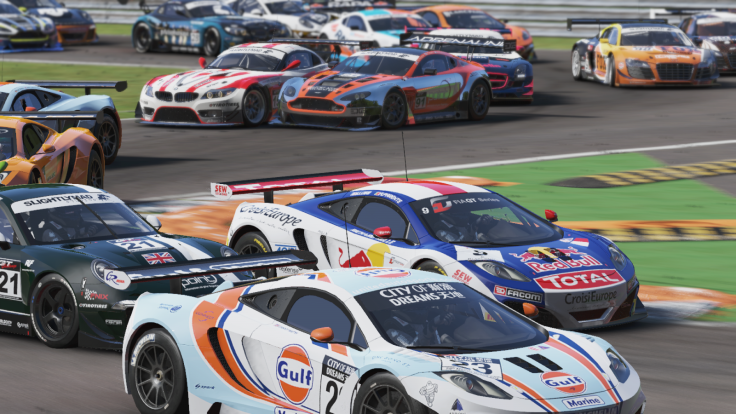 From karting to Formula One
Those same fans will also love the variety of vehicles on offer here. Everything from karts to Formula One cars, via touring cars of various decades, classic F1 cars, road cars, Le Mans racers and everything in between. It's a good range, but there are some glaring omissions; Ferrari, Lamborghini, Bugatti and Porsche are all missing (although the latter is represented by tuning company Ruf, as in Gran Turismo). The modern Formula One, GP2 and F3 cars are mostly fictional - an unfortunate byproduct of Codemasters owning the gaming rights to F1.
The track roster is also impressive, with several British tracks making the cut, along with Laguna Seca, Imola, Monza, Spa and Bathurst. But, as with the cars, some tracks aren't fully licensed. Le Mans is there, but lacks the realistic sponsor signs (notably Rolex) found in other games, and the famous Nurburgring Nordschleife is called Eifelwald - the surroundings and signs of these circuits may not be 100% accurate, but the roads themselves seemed spot-on.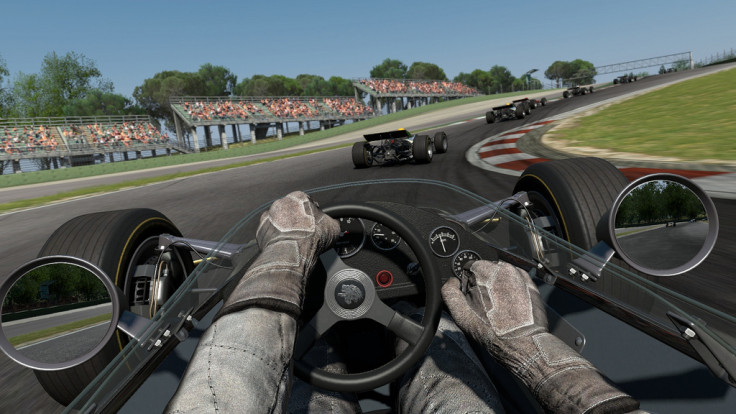 Crowd-sourced
Developed by Slightly Mad Studios, Project Cars has been funded entirely by the developers and fans, who have paid for a range of Tool Packs, through which they have contributed to the game's development. Members of this community will receive a share of the game's profits over its first three years as compensation for their help.
Project Cars has also been developed with input from racing driver Ben Collins, best known for his roles as The Stig on Top Gear and Daniel Craig's stunt driver in recent James Bond films.
I only had two hours with Project Cars and in that time I sampled six different cars on six tracks in various weather conditions and at different times of day and night.
Each offered a unique and truly engaging experience, but it was setting out onto a wet Le Mans, at night, in the Pagani Zonda R which stuck with me for hours afterwards. Merging from pitlane to live race track, rivals flying by, their headlights briefly lighting up my cockpit and reflecting off the windscreen, before passing over my left shoulder, followed by a wave of sound - it felt as real as I imagine a game can possibly be.
Project Cars is set to go on sale in Europe on 20 March, for Play Station 4, Xbox One and Windows, with releases for Wii U and Steam OS due later in the year.