A leopard that halted production at one of India's largest car factories, has been tranquilised by wildlife rescuers 36 hours after it was first spotted prowling inside the plant.
The big cat was seen at around 2pm today (6 October) by wildlife workers and police officers who were monitoring CCTV cameras throughout the huge Maruti Suzuki plant in Manesar town, not far from the capital, New Delhi.
The team rushed to the engine workshop, which covers six acres, where the leopard was tranquillised around twenty minutes later.
"It will take 20-30 minutes for the leopard to calm down. The team members saw the leopard on CCTV footage and grabbed the opportunity to fire the tranquiliser at it," wildlife conservationist Vinod Kumar told the Hindustan Times.
Once the effect of the tranquiliser has taken hold rescuers plan to release the leopard back into the wild.
The factory is close to the Aravalli hills and it is suspected that the big cat could have strayed from its forest home.
"We will examine its condition before releasing it back into its natural habitat," said the forestry department for Haryana state in north India, which covers the region.
The presence of a big cat on the 600-acre site forced the closure of part of the complex, and stalled production for over 24 hours at the plant, which manufactures around 5,000 petrol and diesel engines a day.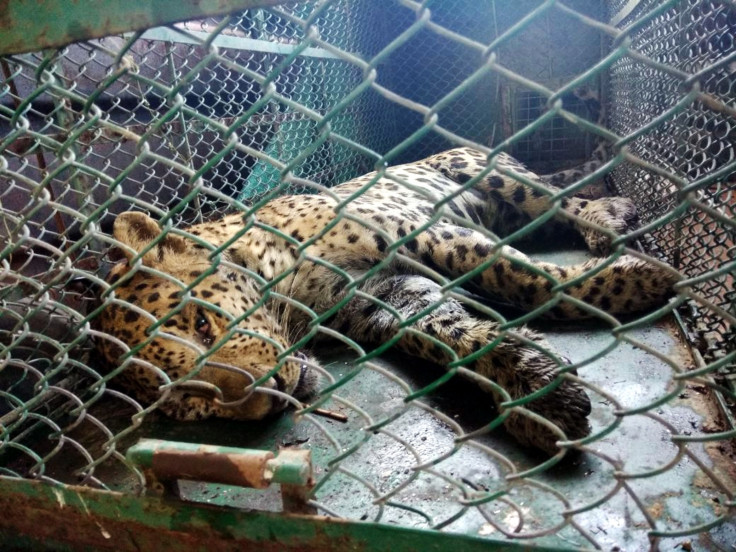 A dozen forestry department workers and 50 police officers were sent into the plant to flush the animal out. Two live goats and raw meat were used to lure the leopard out of hiding, according to reports.
Instances of human-animal conflict have been increasing in India, where shrinking animal habitats often drive elephants, tigers and leopards into residential areas.
There are around 12,000-14,000 leopards in the country, and one is killed every day on average.
Last year, a leopard entered a school in the Indian city of Bangalore and injured six people who were trying to capture it. It took 10 hours to catch and tranquillise the animal.