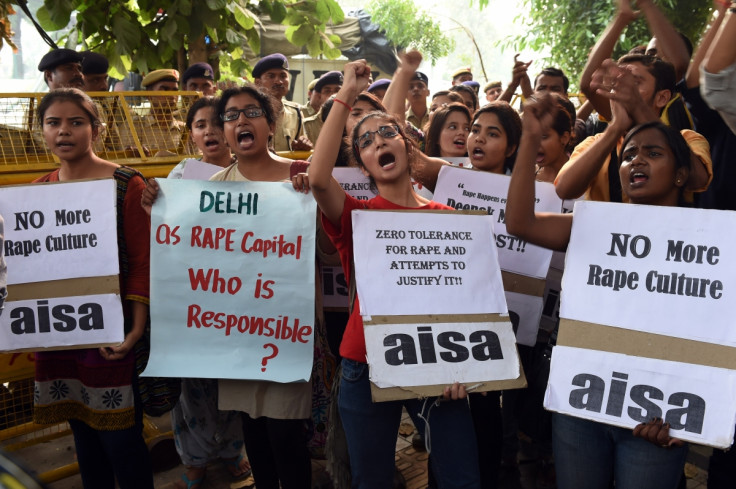 India's women have taken to the streets in protest after a university student, gang-raped three years ago, was reportedly attacked again by the same men and left for dead in retaliation for filing the first charges.
The 20-year-old woman said she was grabbed off the street by the same men, pulled into a car where she was attacked and threatened with death if she pursued her case against them, reported the Washington Post on 17 July. A passer-by found the victim in bushes and barely breathing in Rohtak town, situated in the northern state of Haryana.
"I was leaving the college when I saw them," the woman told NDTV from her hospital bed.
"They were the same five men. I was very afraid. They forced me inside the car. They tried to strangle me. They said they would kill my father and brother."
The woman, who has not been identified by authorities, is a Dalit, a term used to describe the lowest status India's caste system. Casteism is outlawed by the nation's constitution, but the discriminatory practice is widespread. The five men charged with the gang rape are members of upper castes.
The original attack on her occurred in Bhiwani town. Her family has said they were forced to move to Rohtak after threats by the men she accused.
Two of the five men were arrested for the original attack but have remained free on bail. There was apparently no police protection offered to the woman.
Her family said the attackers have been pressuring them to settle the case for a cash payment, even while the woman continued to pursue the charges in court.
"We had filed a case in the court for the arrest of the remaining three and re-arrest of the two out on bail," the victim's brother told the Hindustan Times. "We were getting constant threats from the accused to reach a compromise outside the court, but we remained firm. That's why they have attacked her again."
Protesters in Rohtak are demanding the immediate arrest of all the accused men, and a police team has been dispatched to Bhiwani to arrest the men.
Despite mounting public outrages, India's horrific sex assaults have continued since a 23-year-old medical student was gang raped and murdered on a Delhi bus four years ago.
In March 2016 a 28-year-old woman was gang-raped in front of her three-year-old daughter and her attackers killed her newborn son in the town of Shishgarh in northern India's Uttar Pradesh State.
Then, later on in May, two men were arrested after a 15-year-old girl was gang-raped and murdered. Her body was hung from a tree to make her death look like suicide. In June, five men convicted of raping a Danish tourist in Delhi were sentenced to life in prison. But prison stints are rarely so extensive — if they exist at all.