It almost looked as if Russian leader Vladimir Putin had finally given up his stance on the country's conservative approach to homosexuality by reaching out to none other than British music star Elton John to discuss the matter. However, the Kremlin on Tuesday 15 September, denied that such a conversation had ever taken place, indicating it could have been a hoax call.
John, who happens to be a prominent advocate of lesbian, gay, bisexual and transgender (LGBT) rights had posted on his Instagram account a photo of the Russian President saying he had a fruitful conversation about homosexual rights with the leader. But, on Tuesday, Russian Presidential spokesman Dmitry Peskov denied the phone call had ever been made.
"I don't know who spoke to Elton John but President Putin did not speak to him and neither have we got any proposal from his side to meet the President," he told journalists. Although John has not commented after the Russian authority issued the statement, his publicist confirmed to the Associated Press on Tuesday that the phone conversation did take place.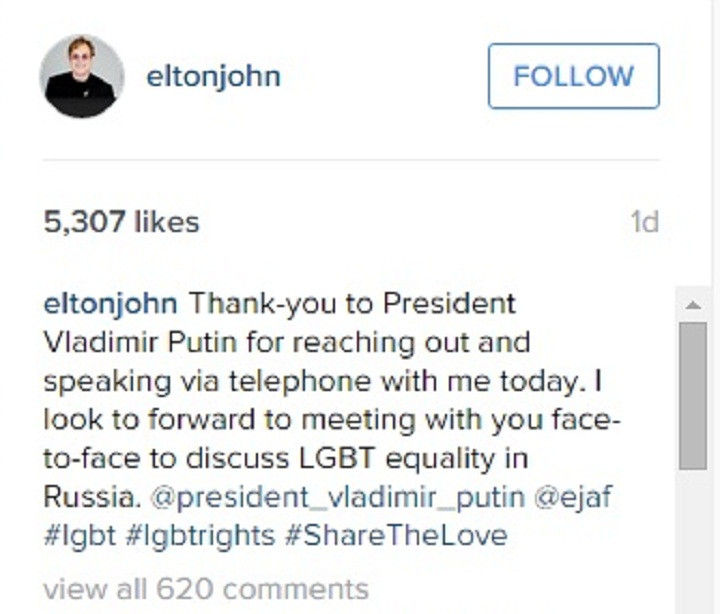 John had strongly criticised Putin during his recent visit to Ukraine, where he met President Petro Proshenko to promote LGBT rights. The musician said Russia has a 'ridiculous' stance on gay rights. In fact, the country had banned gay 'propaganda' among children in 2013, sparking an international debate. Russia has also proscribed same-sex marriages and opposes support for equal rights for homosexuals.
John's claim seemed authentic to many, as in recent times the Russian President has taken a softer stance, at least publicly, on the issue. At the Winter Olympics in Sochi in 2014, Putin had told visitors "non-traditional" sexual relationships were not banned, but to leave children in peace. He denied being prejudiced himself, and told the BBC that gay people were not discriminated against.
"When they achieve great success they are honoured — for example Elton John is an extraordinary person, a distinguished musician, and millions of our people sincerely love him, regardless of his sexual orientation," he said. Putin, who plays the piano, is said to be a fan of western music.
In 1979, John became the first major Western pop star to perform in Russia even as Cold War tensions remained high. Since then, an array of musicians, including Madonna and Lady Gaga who performed in the state, have been openly critical of its discriminatory policies against the LGBT community. In fact, pop star Madonna was dragged into a legal battle in a Russian court for being a vocal votary of the cause. However, the case was eventually thrown out.