The Kremlin has been drawn into a war of words with the UK press over whether a President Vladimir Putin calendar has sold out in Britain.
A number of pro-Putin media outlets claim the Russian leader has become "suddenly fashionable" in the UK, with his 2018 calendar flying off the shelves "like hot cakes" within hours of going on sale.
The calendar features Putin as a man of action. In March fans can see the head of state throwing a hapless opponent during judo practice, in June he rides his chopper at night with other bikers by the Black Sea, and in July the Russia President goes hunting with a rifle topless in the woods.
The front of the calendar shows a softer side to the strongman leader, as he cuddles a Persian leopard at the Sochi National Park, on Russia's Black Sea coast.
The website of Russian newspaper Izvestia last month claimed its head of state, who been in power since 2000, is "suddenly fashionable".
It added: "There are no calendars anymore. They were all bought out in just a few hours".
A newsreader for Russia's TV5 said the calendar was "selling like hot cakes in Great Britain, where it became popular with buyers almost immediately".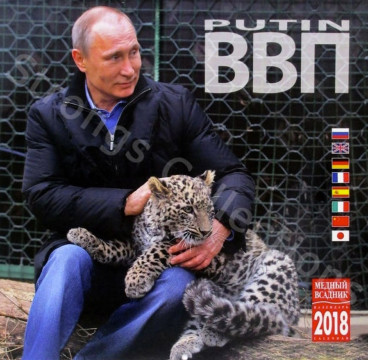 But the Daily star labelled the product "hilarious" in November, while the Sun called Putin "the fearless leader . . . who can cuddle a leopard without trembling".
The BBC contacted 10 of the UK's biggest sellers of calendars, and none of them stocks the calendar. It could not find any British store that had sold the Putin calendar.
In fact, there are only around 6,000 copies of the calendar for sale from various vendors on eBay and Amazon – none based in the UK.
By contrast leading UK retailer Calendar Club, is budgeting to sell about four million calendars this year.
The Vladimir Putin calendar costs £15.99 and comes in eight languages, including English, Italian and Spanish.