Queen Elizabeth pays tribute to victims of the Holocaust during visit to Bergen-Belsen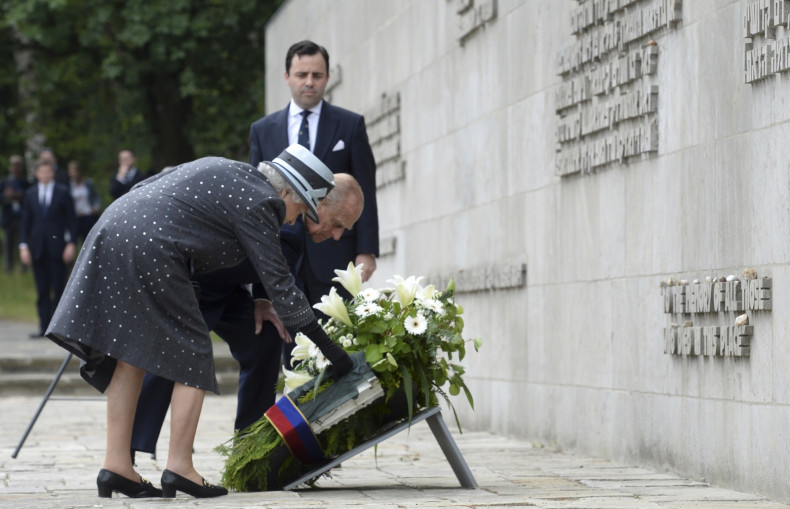 Queen Elizabeth II and Prince Philip visited former Nazi concentration camp Bergen-Belsen as they ended their state visit to Germany on 26 June. The British royals met with survivors of the Holocaust and British veterans who helped liberate the camp 70 years ago, the AFP reported.
According to a source, the 89-year-old queen wished to make a "personal visit" to the camp in northwestern Germany along with her 94-year-old husband. It was her first visit to the Nazi camp, Buckingham Palace confirmed.
The couple spent around half an hour walking around the camp, where nearly 52,000 were killed during the Second World War or died after its liberation.
The camp's most notable victim was Jewish diary writer Anne Frank, who was just 15 years old when she died of typhus. The AFP reported that the Queen stopped at a memorial stone to Frank and also visited a sculpture known as the "House of Silence".
The Daily Mail reported that the royal couple paid tribute to those who died under the Nazi regime with a wreath placed at the foot of a memorial to the camp's victims. The two lived through World War II, with the Queen being evacuated to Windsor Castle during the Blitz and the Duke fighting alongside the Royal Navy.
Bernard Levy, who was a 19-year-old British Army corporal at the time of the camp's liberation, told reporters that the Queen's visit to the camp was "fitting" and would encourage young people to learn about survivor's stories.
"It is fitting the Queen should go," the 89-year-old said ahead of the visit. "Holocaust education is so paramount, and many kids of today don't really know about it. The Queen going there lends credence."
The royal couple also met with local high school students, who showed the Queen what the camp looked like in the 1940s.
The Bergen-Belsen concentration camp, which held Jews, political prisoners and other groups persecuted by the Nazis, was liberated by British forces in April 1945.