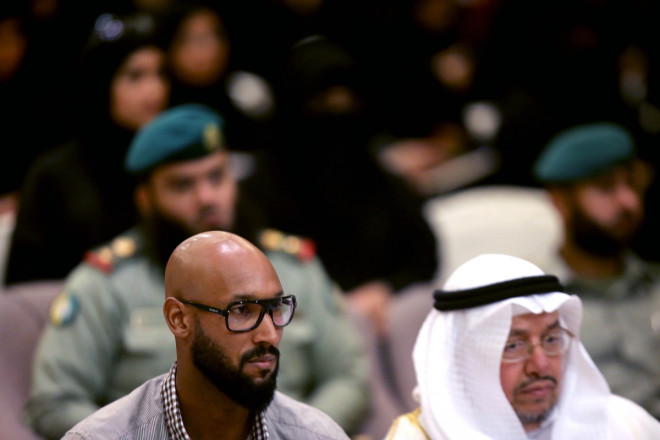 Nicolas Anelka's controversial career took yet another unconventional turn after a planned move collapsed because the striker went on a pilgrimage instead.
Brazilian club Atletico Mineiro tore up a contract it was waiting for the Frenchman to sign because he decided to take a "religious trip" to the desert kingdom of Kuwait instead.
Anelka, who is a convert to Islam, was invited by the hardline Muslim government to take part in an event for young people.
It means Anelka, 35, is still without a club after he walked out on Premier League outfit West Bromwich Albion who also sacked him over his offensive 'quenelle' gesture, which sparked a storm of protest last year.
Atletico decided not to wait for Anelka to show up at the club in his own time, after the player's representatives put back signing the contract three times, reported AFP.
When asked by reporters in Kuwait about his plans, Anelka was coy by not mentioning he was expected on the other side of the world.
He said: "I haven't signed for anyone, I'm on holiday. I'm on a religious visit in Kuwait and I'm not going to talk about football."
Frustrated director of Atletico Mineiro Eduardo Maluf confirmed later that Anelka was no longer welcome at the current holders of the Copa Libertadores - South America's equivalent of the Uefa Champion's League.
Maluf said: "He had the obligation to let us know about this in advance. Atletico is much bigger than this: the deal is off.''
Atletico's decision not to sign Anelka deprives football fans the chance to see him team up in attack with Brazil legend Ronaldinho. It was an intriguing prospect, despite both players being way past their primes.
Anelka has not played football professionally since announcing on Twitter that he had arbitrarily resigned from West Brom. The former France hitman claimed he felt let down by the club's decision to ban him for flashing the 'quenelle' during a match in 2013.
The inverted Nazi salute by Anelka caused outrage because of its anti-Semitic overtones. Following his decision to leave West Brom, Anelka has made increasingly bizarre efforts to justify the controversial gesture by comparing it to "eating pineapples." He insisted it had been a tribute to his friend who invented it, the banned French comedian Dieudonné M'bala M'bala.