In 2012, Django Unchained became Quentin Tarantino's most successful film to date. Not only did it win two Academy Awards (out of five nominations), but it took $425m (£280m) at the box office, out-earning his previous apex Inglourious Basterds by more than $100m.
Now with his second Western-based film, The Hateful Eight, set to reach cinemas, Tarantino has admitted he's thinking about starting on yet another project set in the Deep South. Only this time, he's planning on it being for television screens rather than silver ones.
Talking to French publication Premiere Magazine, the filmmaker said: "It always takes me a while before thinking about the future. That said, I own the rights to this book I've wanted to adapt for a while, and the time may have come for me to tackle it. This is Forty Lashes Less One, [written by] Elmore Leonard...which could be my third western. I'm considering [taking the] project to TV, in the form of a miniseries of four or six hours."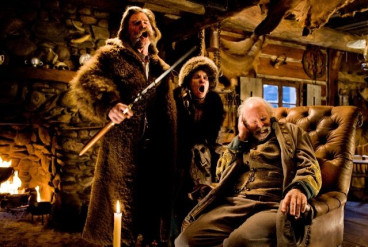 The book centres on two Yuma prison inmates – one black and one white – who become unlikely allies thanks to their dire circumstances. The story gets pretty violent and some might worry how well that will fare on screen, but those familiar with Tarantino's work will know how effectively he can juggle tales about the darker sides of humanity and outrageously theatrical gore.
From the sounds of it, it seems like something that would be appropriate for either HBO or Showtime. Although there's always a possibility that developing platforms Netflix or Amazon Prime TV might adopt the series.
Tarantino's latest film The Hateful Eight, starring Samuel L Jackson, Tim Roth, Jennifer Jason Leigh and Kurt Russell, is set to reach both US and UK cinemas on 8 January 2016. Set in post-Civil War Wyoming, it tells the story of several bounty hunters who, while trying to find shelter during a blizzard, get involved in a plot of betrayal and deception.
For more entertainment news follow A-List on Twitter @Alistinsider