The famous Game Of Thrones phrase, 'you know nothing' has never rung more true. You'd think that after watching the first teaser ahead of the hugely popular show's sixth season, we'd be a little more clued-up on what the plot might be, or more importantly, the still-undetermined fate of Jon Snow after he was seemingly killed off during June's bloody and shocking finale. But alas, that is not the case.
Unfortunately for those who were keen to get some answers about the future of the characters, the 40-second sneak peak focuses mainly on flashbacks, beginning with a shot of a standing Snow, looking very much alive, as an ominous voiceover says: "The past is already written, and the ink is dry."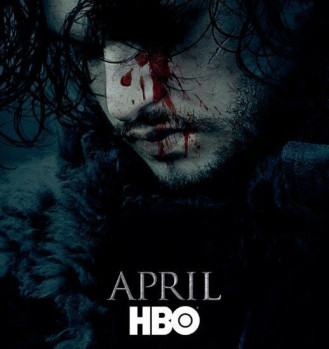 Viewers are then treated to an intense montage of some of the show's most thrilling and tragic moments, including the Red Wedding, the whitewalkers introduction and Jaime Lannister getting his hand cut off. Also featured: when Snow was supposedly executed for committing treason against the Night's Watch.
The cryptic teaser comes just days after the network released the first poster for season six, with a sole focus on Snow. As soon as the artwork was unveiled, fans went into a frenzy speculating as to whether the fan-favourite character will come back from the dead next season. The poster showed his face up close, eyes slightly shut with blood upon his face, so it's certainly not definitive either way, but the teaser seems to now support the reasoning of the more hopeful fans.
Before the clip ends, we see an image of Bran Stark, his white eyes rolling back into his head. "They have no idea what's going to happen," another voice teases. You can say that again!
It was heavily rumoured ,after he was absent in season five, that Stark would make an exciting comeback in season six. Those speculations were confirmed earlier this year. Many think that Stark will play a pivotal role in the upcoming series – even perhaps having something to do with Snow's possible resurrection – and the new trailer certainly teases this.
One thing for certain, Stark is going to come back more powerful than he was before in season four. In August it was announced that The Exorcist star Max von Sydow would step in as The Three-Eyed Raven, a character who has not been seen since the fourth series.
The character within George RR Martin's books is heavily involved in teaching young Bran Stark how to use his supernatural skills as a warg; abilities that enable him to transfer his conscience into the body of animals and see and hear what they do. Chances are, with the pair both coming back this time round, this thread will be explored.
The Game Of Thrones cast is currently filming the upcoming season in various locations in Northern Ireland. The fantasy show will return to HBO in April 2016.
For more entertainment news follow A-List on Twitter @Alistinsider